Tips for keeping your bridal bouquet fresh on the day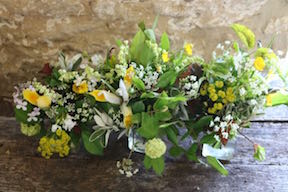 We do English country flowers for fifty or sixty weddings a year here at Common Farm Flowers, always using British-grown flowers in our floristry, mostly grown here on the farm between Wicanton and Bruton in Somerset, and nearly always including a touch of wild flowers in the mix.  
Wild flowers are beautiful in wedding bouquets, but they won't last forever out of water.  Traditional bouquets made with flowers full of chemical preservatives can be carried about for hours without showing any sign of fatigue, but fresh fresh fresh flowers, like ours, which have never been near any silver nitrate or other flower preservatives, will only do an hour or so out of water (plenty of time for the ceremony and the photographs.)  
So our brides are advised to keep a vase of water ready to put their flowers in when they've had enough of carrying them around - which to be fair, brides quite quickly have.  After all, there are people to kiss, glasses of champagne to carry, people to dance with.  Brides (and bridesmaids) have quite quickly have had enough of carrying their flowers around with them.  
One good idea is to have a range of vases filled with water arranged round the cake and then the bouquets and posies make a lovely arrangement around the cake, or if budgets are tight, use the bride and bridesmaids' bouquets as table centres on the top table.  
If you're getting married this summer - have a truly wonderful day.