How I create with May flowers for a small but exquisite country house wedding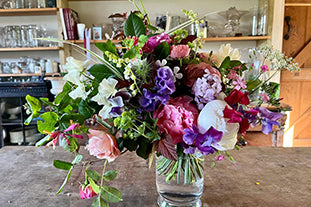 Join flower farmer and florist Georgie Newbery of Common Farm Flowers in sunny Somerset as she cuts and creates flowers for a small but exquisite wedding.
With thoughts about working with unusual colour combinations, the focus a strict shape can give to creativity, thoughts on weight versus light in flowers this is a cheerful sunny clip full of spring flowers as the garden bursts into colour.
Georgie delivers a number of online and face to face workshops, where you can learn more detail about creating arrangements such as this. Find out more here.