How to budget for your wedding flowers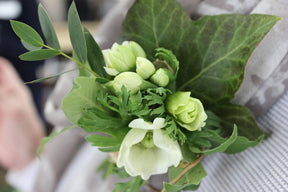 Weddings are expensive activities and the more you plan where the budget is going to be spent, the better you can control the cost of your big day. 

As soon as the excitement of getting engaged dies down, I would make yourself a spreadsheet. Don't roll your eyes at me - I mean it!This spread sheet will be the document on which all your wedding planning can rest. On it I would put every single thing you think you might find yourself spending on to make your wedding dream come true.
Put everything you've ever dreamed of on the list: from the obvious dress, caterers, wine, cars, photographer, hair dresser, florist, to those little details which you've always fancied: wedding favours, lavender to scatter on the path to the reception, fresh petal confetti, your grandmother's pearls restrung especially so you can borrow them for the day.
Then begin to do some research. Go right through the list and put sensible ideas of how much you'll need to pay for everything. No, you are not giving all your friends and family a slap-up three-course meal with wine for £15 per head. Be sensible. 
The very thinking about your list will focus your mind and begin to turn an amorphous, 'Ummmm... will £5,000 do it?' to a clear idea of how much the day you've dreamed of will cost. 
You'll find you automatically start editing your list: perhaps you'll decide at this state that you'll give people canapes instead of a starter, that you'll have a buffet and save on waitresses, that your grandmother's pearls do matter to you and so that cost must be budgeted in, but that you don't perhaps mind soooo much about the wedding favours. 
Your budget may reach to the moon and back, in which case you don't need this spreadsheet, but very few people have this kind of money to hand, and even if you think your budget's huge, you may find it's rather smaller than you thought when you've listed everything you've ever dreamed of. 
How do you budget for the flowers? 
Well, think about it: in your mind's eye, have the flowers always been integral to the look of the wedding you've dreamed of? Do you see them in all the photographs, a flowery bower framing you and your other half in luxurious floriferousness? In which case you're going to have to have a relatively bold flower budget. 
Imagine, if you will, for a luxurious wedding look, that there will have been several people working flat out for several days on your scheme. Even for a relatively modest scheme of wedding flowers there will have been a team hard at work sourcing, conditioning, preparing, creating your flowers, making sure that the roses are just out to perfection but not going over, that they've found locally-grown sweet peas filled with scent. There will have been meetings with the florist, telephone calls, emails to and fro to make sure that the florist and the wedding couple are absolutely working on the same creative path: trips to venues, van insurance, feeding a team of people being paid Saturday wages while they wait for the ceremony to be over so that they can take down the garland from the church porch and transport it to the reception venue and turn it into a table centre for the top table... all these activities, rightly, cost money. 
The florist will hopefully absolutely love their job (they have to if they're working most weekends from April till October with few days off in between!) but they're also running a business: they have salaries and electricity bills, insurance, a book keeper... all the overheads you'd associate with any small business, and these overheads need paying. That's not to mention the several thousand stems of flowers and foliage which will very likely be necessary to create your look. 
Unless your wedding is a really intimate affair, you won't be paying just one person for a day's work plus the cost of the flowers themselves. 
What I'm saying is, as with your budget for feeding your guests, be sensible with your wedding flowers budget. For £500 or less you'll probably get the most bang for your buck by buying in flowers and arranging them yourself. 
We do masses of DIY buckets of flowers for weddings, happily supplying people who'd rather not spend a fortune, and who have time/energy/space/creative flair to make their own. We deliver them on the Thursday so that couples can spend Friday arranging for a Saturday wedding. 
We also sell lots of buckets of flowers to people who've successfully grown a great many of their wedding flowers, but just want to bulk out what they've grown a little - for there's nothing worse in floristry than finding that you don't have quite enough stock! 
For between £500 and £1,000 you might do some of the arrangements yourself and then have a florist create the bride's bouquet, the bridesmaids', the buttonholes, and perhaps a few focal arrangements. 
Most couples at the moment spend between £1,500 and £2,000 on wedding flowers, but for a really luxurious scheme with church and reception needing a good deal of floristry, you're more likely to find between £2,000 and £6,000 ... or on upwards ad relatively infinitum. Though if you're reading this post I doubt you've the infinitum end of the budget to hand. 
Come on a GYO wedding flowers or DIY wedding flowers workshop here at Common Farm Flowers in Somerset and save yourself a fortune! Equally my book Grow Your Own Wedding Flowers has lots of floristry tips as well as how to grow your own for any special event or occasion. 
Be sensible: if you really dream of little bud vases with just two or three flowers in each, dotted down your tables, then that's a job your bridesmaids should do. A florist will quite rightly charge for time and delivery which will make those little bud vase arrangements expensive. A good florist won't mind doing some of your flowers and will understand if you'd like to do some others of them yourself. A good florist should explain that if you ask them to add a sprig of rosemary to every place card on the tables it will probably cost a disproportionate amount - fine if you really don't have time/help and you really long for those sprigs of rosemary - but not fine if you have five bridesmaids twiddling their thumbs when their hair has been long done. 
Be sensible too with Pinterest - a wonderful resource for images and ideas. Look though, and think: was this shoot set up for the camera? Is it a real wedding? Real weddings need space on tables for serving dishes and wine bottles - if the pictures are of tables almost covered in flowers there won't be room for the cheese platter, or the pulled pork, or even the wine you've decided you'd like to spend some of your budget on. 
Budget weddings are great, but do require careful planning. If you're doing work that other brides might pay professionals to do for them then you too are going to need as many, if not more, helpers than the pros would have, and probably a good deal more time than the pros would need. Be wise, plan carefully, make your spreadsheet, stick to your budget. And if quotes come in way over the budget you've set then think: what is most important about this day? It is that you and your intended stand up in front of friends and family and pledge your troth? YES! It's the MARRIAGE that matters. ALL the rest is pretty, or delicious, or luxurious, or a dream you've had since you were five, but ALL the rest is not the most important thing. 
Top tips for keeping all your wedding costs down:
Number of guests: a smaller guest list will keep your day intimate, charming, all about the wedding and less about the admin involved in putting on a huge do.
Booze: prosecco is much less expensive than champagne and just as bubbly.
Food: canapes can double as a starter. Sharing platters on tables can save on waiting staff. A buffet is probably least expensive. The truly budget couple might ask their friends and family to bring food to contribute to the feast. Six large lasagnes, lots of salad, and platters of cheese and fruit make a lovely dinner and wouldn't take much of an effort.

Remember with ALL your budgets that the minute you need more staff your costs will go up by an hourly rate plus transport per member of staff you need.

Flowers: The flowers that will be remembered will be those in the photographs, so frame yourself and your other half in flowers and worry not too much about the church windowsills or the children's table. Make the top table and the area around where the ceremony happens the focus for the flowers because they will be much photographed with you in the centre of them.

Ceremony flowers can be taken back to double up as table centres etc for the reception, but do remember that it's good manners to leave a pedestal in a church for the Sunday service.

Put water-filled vases around the cake and when you've had enough carrying them around the bride and bridesmaids' bouquets will dress that table beautifully, sitting in those vases.
So budget sensibly. Be honest with your florist and don't ask them to supply what I call the full Fragonard for £200. Don't ask a florist to work out a complicated quote and only then tell them that you have a small budget after they've supplied the quote. Equally, don't be upset if some florists prefer not to do budget weddings - they might like the challenge of big, creatively complicated wedding schemes, and only want to do one wedding a weekend through the season. 
I hope this post is helpful. 
For a wedding of 100 or so guests, if you'd like a florist to do all the work for you, then you ought to budget at least £1,000 if not a good bit more. For a fully decorated ceremony or church, and garlanding and flower crowns and circles of flowers hanging from the ceiling and a relatively lavish scheme at the reception, then you could budget from £2,000 upwards and the sky financially, in that case, really is your limit. The more you plan, and the more careful you are with your budget, the less likely you are to hit any unexpected financial hurdles along the way. 
Weddings are days for romantic dreams to come true, but all romantic dreams need a bit of reality to stand on. Look at the finances, and don't leave yourself breathless at what all those dreams have cost you. Use your bridesmaids and ushers to help, and for those little jobs especially, those which a pro will have to charge what I call 'fiddle time' to cover, your bridesmaids and ushers are the people you should bring in to help. 
To discuss all kinds of wedding flowers projects, from budget to full Fragonard, call Georgie at Common Farm Flowers - we supply weddings all over the UK but especially in Somerset Good luck, and enjoy your planning!