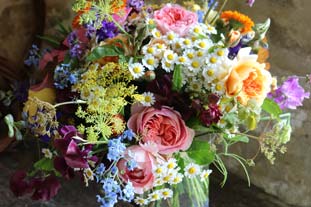 Well hello there friends.  How are you all doing?  Slowly unlocking yourselves?  We too are being very careful on that front, still very much spraying the soles of our shoes with disinfectant when returning from the outside world, not to mention hand washing and all the rest.
Which means, sadly, that July's workshops here at Common Farm are postponed – but do hold your collective breaths re August.  Depending on what's happening I think we may actually run the flower farming intensive three day workshop on the 11th, 12th and 13th August.  Before we commit though, we need to get our Covid Protocols absolutely right, and to that end we are working hard to make sure that if and when visitors come here they can be confident that we've done everything we can to protect us all from risk of infection.
However, don't despair.  I am finally joining in and scheduling online workshops.  We have one on Friday 10th July at lunchtime in which I will show you how and why to sow biennial seed for flowers next spring.  And then, on Friday 17th July I'm going to hold a hand tie posy workshop online.  Both these workshops are live and there will be plenty time for questions, as well as notes sent out to students afterwards.  As always with our workshops there will be a limited number of spaces, in order to make sure that everybody feels included and can ask questions, so do book quickly if you'd like to join in.  
Meanwhile the bouquets by post are still winging their way around the country in numbers I'm just about keeping up with.  A popular option while we've been in lockdown has been the 'click and collect' bouquet, so I think we ought to put that on the website too.  For people living locally (Bruton, Wincanton, Castle Cary, for example,) we can have bouquets made up for contact free collection in bags.  They are the same sizes as the bouquets you can order online, but don't include the packaging or delivery costs necessary for flowers being delivered by courier.  And so the prices are as follows: Kitchen Table Bouquet, £50, Classic, £70, Whole Garden Bouquet £105.  We are also going to have a posy which fits nicely in the bag for £35.  All these prices include VAT.  These will be available online SOON (in the meantime, please let us know if you'd like to order local flowers), and will be available for collection from Common Farm from lunchtime on the day they are required for collection.  Please remember we aren't a trad shop, and so please don't just drop in to see if we have flowers available – the bouquets we make each day are all cut to order, so we don't have a studio full of spares for people to buy on a whim.  
And the weddings and events… Well, you'll be glad to hear that some of our lovely couples are getting married anyway this summer, in tiny little ceremonies, with just their absolutely immediate family there.  And for them we are doing dinky bouquets and buttonholes, because even the most low key registry office affair needs just a flower or two to dress the occasion.  They are all planning their big celebrations for next year, and we're excited to be working with them on those, but I do love a teeny little wedding most of all, so doing bouquets for these intimate ceremonies this summer does make me smile, a lot.  
So enjoy July friends, do come along to one of my new online workshops.  We will be putting more and more of them on, so keep an eye here and on the website and on our social media for dates and titles.

Georgie x