Making a wedding corsage for a handbag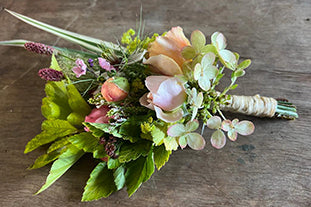 Join Georgie Newbery of Common Farm Flowers as she creates a beautiful corsage for the mother of the groom to wear on her handbag at a wedding.
It's July, and Georgie can't resist cutting too much material for this project. Join her as she shows you how to wire rose buds, how to choose material, how to think about size and style and longevity of different flowers and foliage which will spend the day out of water. And have a go yourself.
If you do make a corsage like this then do pop a picture on your instagram and #tag it #30stemchallenge and tag Georgie @commonfarmflowers and she'll share some of them on her stories.