Tips for choosing flower colours for weddings & events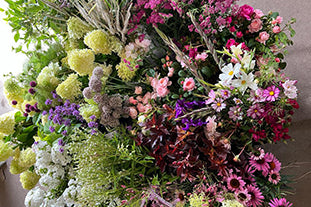 Join flower farmer and florist Georgie Newbery of Common Farm Flowers in Somerset, south west England (zone 8) as she cuts contrasting flower schemes for a party and for a wedding.
For both events the clients have let Georgie choose the colours. Part of her brand is that customers know that if they leave Georgie to choose the best in the garden on the day they will have a more interesting mix than if they are more prescriptive. The party needs to be cheerful and not too 'wedding.' The colours and style for the wedding have been left up to her by the client so Georgie has a free hand in what she cuts: the look must have a wedding feel, but also, depth of colour, variety, rich texture.
See how she finds a connection between the flowers, sometimes the rich depth in a leaf will tone with the under colour of a flower which will tone with a much paler rose for example. Watch all the way through to see the bride's bouquet Georgie creates at the end. And enjoy!