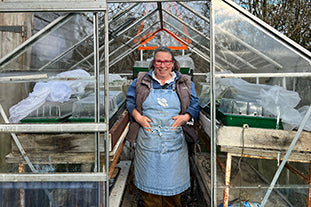 Can you hear the birds singing?  Fabrizio's put up a veritable forest of birdboxes where we've been making the entrance for the new flower farm hub, and if one goes and sits there quietly, it's possible to watch the birds scoping them out like house hunters, bossing each other and arguing and thinking about getting territorial.  The sap is certainly rising.
I am always relieved to see the back of winter.  I spend the dark months panicking that I'm not getting anything done, and then through February the hours of daylight visibly lengthen, and I remember that it's possible to get quite a lot done in a day, and I stand back after a chunk of consecutive hours outside, amazed at what I've achieved.
So the first crop of the year has been sown and has mostly germinated, there are ranunculus to plant out into the tunnel, I've looked at the dahlias and even been caught squeezing the tubers to test their firmness (good,) after a cooold (but never quite freezing,) winter stored at the end of my studio barn.  It's light now before 7am, and not pitch dark till after 6pm.  You can smell the green flush in the year. 
This, the first week of March, I always think is your last opportunity to drive the lanes and look through hedges which soon will be once again impenetrable to the naked eye.  Fabrizio puts the hedge trimmer, the bird box ladder, the tools he uses to make heaps of twig and branch debris about the place away on the 1st March because he reckons that nesting can begin at any time.  From now on I will see him bent double as he walks the meadows here counting the tiny crowns of orchid leaves as they spring up between the snakeshead fritillaries. (Fabrizio holds an annual wildflower meadow workshop in June which is well worth booking a place on if you too want to create a wild meadow area in your garden.)
March is always a flat out month here on the flower farm.  Once the seeds are germinating and I can move them onto the propagating shelves in the polytunnel I rub my hands with glee and set the dahlia tubers up to sprout on the warm beds in the small greenhouse.  Last year I took cuttings rather than split the old dahlia tubers and I've never had such a good dahlia crop so I'm planning to do the same this year.  My dahlia growing workshop took place online last night but will be available to order as a download for a couple of weeks for those of you who are interested. Those of you able to travel to Somerset might like to join me here later in the year when we offer a face to face dahlia workshop on the farm. 
No two years on this flower farm are the same.  Over the fourteen years we've been growing flowers for sale I have learned not to expect the market to behave as I expect.  It's important as a small business to keep an eye on what customers are keen to buy as well as the actual value of a living one can expect to make.  I have been anticipating our wholesale business growth, and am pleased to find I have more and more customers ordering flowers this way. 
After the hiaitus of COVID I thought my wedding flowers days might be over, but I'm finding too that there is an increasing demand for DIY wedding flowers, and that those customers are booking in their orders in exactly the same way that the luxury wedding market used to do for us.  This is great for a small business like ours as it means we can almost grow to order, and ideally, knowing exactly how much work we can do in a week to reach our objectives, can then sell out months in advance.  The 2023 season has only about six weeks left to be entirely sold out and 2024 is booking up nicely already. 
I know that sometimes people find it very difficult to price their flowers and so have listed a new workshop to be run on 1st March to help people work out their prices.  Again, if you can't join live, this session will be available to order as a download for some weeks after the event - check back on 2nd March or if you'd rather join a live version of this session email nicola@commonfarmflowers.com - at the moment we've not scheduled a second session for 2023 but if the demand is there we will see what we can do. 
We also have several wedding prep and associated floristry workshops and demos lined up for the spring and summer so do book a place there if I can help with your plans and projects.
Another change here, driven partly by the increased demand for wholesale quantities of individual varieties of different flowers, is that we are growing more and more perennial flowers.  For small scale flower farmers and flower growing enthusiasts perennials are attractive because they might be considered to take less work, while on the other hand they use the space they live in all year round – so swings and roundabouts apply on this subject.  I've scheduled a workshop to talk about which perennials might be worth growing for people who love them as cut flowers, whether for pleasure or profit on 29th March – book a place and be inspired.
Our recent sell out Flower Farmer's Year, Design a Cut Flower Patch, and Career Change Flower Farming workshops were all great successes with lovely reviews on google so we've scheduled more of all three this month.  And then for fun we have a hand-tie bouquet demo (with aquapacking and wrapping,) planting out seedlings demo and a living Easter Wreath demo to take us through the month.
Meanwhile I'll be documenting the day to day life of this flower farmer on the old YouTube.  We now have over 14,000 subscribers and 225+ members of my YouTube club (whose members were treated to my Mum Googie answering their gardening questions when I was visiting my parents last week.)
The great thing about using social media for a small business like mine, is not just that through the various platforms I post on I find customers, collaborators, and great ideas for the future, it is that the discipline of posting five days a week makes me think carefully all the time about what Common Farm Flowers is, what I want it to provide, and how I can achieve that.  I believe very strongly that without both social media, and the natural extension of those every day posts that my workshops and demos are, I would be a worse businesswoman, less efficient, less focused, and generally much less good at my job.
So I hope we keep interesting as the season unfolds.  Here's to seed sowing, pricking out, planting out, taking cuttings, mulching, and I fear a good deal of watering as we've had only one day's rain in the last month.  On which subject I'm off up the field to see how James (J&C Bird) is getting on with the water collection scheme we've designed for collecting all the water off the roof of the project.
And white rabbits all!
Georgie x