November news from Common Farm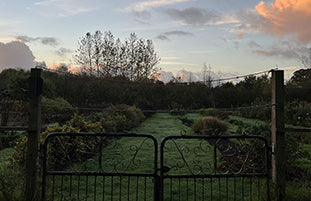 I'm writing this on Halloween – and I'm sitting here in the kitchen without a sweater on and with the door to the garden open.  I wish it were a little colder – don't you?  It feels very odd that despite the frost that knocked out my dahlias three weeks ago, we are still enjoying double figure temperatures at night here in the southwest of England.  On Saturday afternoon it was twenty-three degrees celcius in the yard here.  Too hot! 
One of the ways we can help cool the planet is by planting more trees and shrubs – not just to be many individual little carbon sinks, but to help absorb some of the light which bounces right off concrete and driveways and yards like ours (our concrete yard is always the hottest place here at Common Farm.) 
I made a YouTube clip about making the garden a haven for wildlife during the winter – I think I should make one about heat absorbing plant material – a good excuse to order a few trees to plant bare root in January?  After all I still don't have an Amelanchier, I've always needed a Whitebeam, a Persian Ironwood has been on my list for years…. 
Despite the unseasonably warm weather the year still turns.  I've lifted half the dahlias (little YouTube clip available if you'd like to see how we do ours.) And I need to finish getting them out of the ground by Thursday this week because next week the tulip bulbs arrive.  Why Thursday this week if the tulips don't arrive till next week?  Because then I can finish prepping the tulip beds and mulch them with my fresh delivery from Dalefoot Compost and planting the tulips will be quicker. 
We have both tulip and dahlia workshops coming up in a busy November.  The dahlia workshop has sold out but we've another date in early 2023.
No, of course we don't sit back on our laurels enjoying some time off when our cut flower season ends!
I'm always telling my students that one of the advantages of using a year planner is that you can see when you have time to make a different kind of living: the flowers here may be over, but November is full of dahlia lifting and tulip planting and ranunculus sprouting not to mention time to teach people Career Change Flower Farming and start revving up for Christmas with our wreathing and tablescaping workshops. 
I'm looking forward to taking masses of willow up to Petersham Nurseries for their wreathing too.  Tom Broom-Hughes, their director of horticulture, is keen to make the Christmas offering at Petersham much greener, and by offering willow based wreaths they will be blazing a trail of a sustainable Christmas for all their customers.
Meanwhile, as I order bare root trees and roses to plant in January, as I sprout the ranunculus and prepare the beds for the tulips, people are ringing about weddings for the spring, which, for a person who secretly loves not the dark days and nights of the winter (they will come…) is a relief.  How lovely to imagine buckets of tulips and apple blossom, forget me nots and bluebells for spring. 
Our wedding offering is refining itself rather.  If you're looking for a large, luxurious, high end scheme, we really aren't your florists.  If, however, you like a more DIY approach to your wedding day we would love to help: perhaps you're having a tiny almost eloping day and are looking just for bouquets and posies and buttonholes, perhaps you're on a budget and would like me to do your bouquets but you'd like to make your table centres, perhaps you love to create some of the magic yourself, perhaps you're a florist looking for locally grown flowers for clients not wanting their weddings to cost the earth. 
Whichever, if you're relatively local to Bruton or Wincanton in Somerset get in touch, but please bear in mind that most weekends we sell out well in advance, so if you'd like to order flowers for weddings for next spring, summer and even autumn, do let us know so that we can book you in to our calendar. 
If you'd like to know more about why lots of intelligent couples are asking for locally grown flowers for their weddings, do have a look at @greenwashtheflowers on Instagram, a frequent update on how imported flowers aren't always as good for the environment as they may seem.
And if you're planning a winter wedding this year or in the future, whether you're a florist or a DIY bride / family / friend helping with some of the flowers, our upcoming brand new workshop is for you! Prepping a wedding in winter is different because the material is not the same as that we use in the summer and does need dealing with in a particular way. We'll be talking about light, colour, ribbon, scheduling, and everything a florist needs to consider when creating a very special day in deep winter. 
Right, I have a little tray of mixed seedlings which I sowed at this autumn's hardy annuals seed sowing workshop, and I have a little square of weeded, mulched ground close to the house so nice and sheltered, to plant them in.  It's four o'clock and getting dark (I miss British Summer Time already!) so I shall fight the gloom with a gloaming planting: no frost forecast at all, and so they should have time to settle in, and when it freezes, they should be protected by the warm wall, and the warm compost into which they'll be planted.
One more exciting event this week is a meeting set up with Studio Louise, a Bruton based design agency which has worked with lots of local friends and businesses, from Charles Dowding to Acre & Holt, from Ralfes Yard, to our lovely weekly clients, boutique hotel No 1 Bruton.  We've never had any branding or business design done for us.  I'm excited to see what Louise has to offer.  I hope she brings her wellies!
Finally, a little nod to Christmas. Our workshops and demos, here at the farm and online, make lovely gifts, as do our books. Do take a look and book a place for a loved one. Or if you can't decide what they might like to do we offer gift vouchers too. We can send you a personalised voucher by email - simply pop a message in the note section when ordering on the website and we will send this over to you. Likewise, we can offer this for gifted workshop bookings too. 
So happy digging, clearing, mulching all.  And if you have time and inclination, remember that if you pot up paperwhite narcissi and amaryllis now for sprouting in the house you may have fresh, home grown flowers for Christmas.
Georgie x