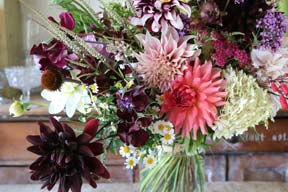 Well September flew by in a blurr of workshops and garden tours.  It's so lovely to be able to welcome people back here again after all this time, and with our gorgeous sail from Timber Intent, we have protection from the weather AND a mini marquee to dress as though for an intimate wedding (absolutely the hot trend in weddings these days!)  We have a few more workshop days here before half term (Sold Out!) and then we're calling time on workshops AT Common Farm until the spring. 

But never fear!  We have a full schedule of fun and interesting subjects being covered in our online workshops. 

On a Wednesday late afternoon we'll be focused on more work related subjects; social media for small business, making a cashflow forecast, how to turn your lifestyle business dream into an achievable plan, the flower farmer's year (bring your diary!) and more. 

Then on a Friday afternoon at 4.30 we'll be offering a series of fun flowery projects for you to do over each coming weekend, with a final Christmassy fling for people wanting to see how we make our Christmas Willow Wreaths and a fully eco foraged plan for decking their halls.  All our flowery workshops are seasonal projects ideal for doing then and there (or at least in the next day or two.)
Then the in person workshops AT Common Farm will restart after Mothering Sunday next year, when hopefully it'll be warm enough to be outside.  We have lots of places already reserved by people who've postponed their sessions till next year, so I have the year planner out and am working on when to reinstate those dates.  I'm assuming we will still be keeping the groups down to a max of five students at a time plus me, and while obviously this has an effect on our cash flow, I have really enjoyed the small groups we've been teaching here through the late summer and early autumn.  People go home having made real friends, as well as learned lots of new skills and developed in confidence – I love the way my small groups often make themselves a supportive Whatsapp group so they can keep in touch and encourage one another as their projects evolve.

One of the lovely things about all of us being proficient on Zoom is that there is the option for one to one sessions on bespoke areas of flower farming, floristry, social media and running small businesses.  We are booking more and more of these in, so if you would like a special session focusing on an area of any of the above subjects with a specific objective in mind, then do get in touch and we'll be happy to arrange a date. 
Meanwhile we are still sending out beautiful bouquets by post. As our gardens here fade, our Cornish colleagues help take the strain supplying the very best quality British grown flowers for our creations.

Please remember we do tend to sell out by the end of the week before we send out, so do remember to order well in advance if you can.  We now have a super duper websitewhich actually works so it's much easier to order online than to ring up (please,) and if you have a special enquiry do just email. We are often far up the garden, or heads deep in flowers, and I know people find it frustrating that we aren't always about to answer the phone, so email for enquiries or just go ahead and order on line and you will hopefully feel much better served.  The awful truth is that even if I did employ someone to hold the fort in the office I would soon feel sorry for them and worry they weren't getting enough exercise and send them out to pot up seedlings or wash the greenhouse, or help with the weeding, or…

Georgie x