Spring flowers for an April wedding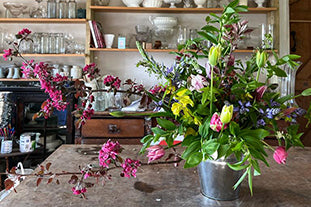 Join Georgie in (sometimes) sunny Somerset between fashionable Bruton and up and coming Wincanton as she creates stunning flowers for an intimate wedding of only thirty guests (so chic!) Including wild flowers she grows especially and all sorts of tulips, Scilla, lily of the valley, and lush spring foliage and blossom.
These wedding flowers are exquisite, delicate, not showy, not wasteful, using all foam free mechanics and creating work which will dress the ceremony AND the reception and then be given as gifts to the guests to take home.
Georgie has lots of wedding floristry workshops coming up. So if you enjoyed this video but want more details about the 'how to' they might be of interest. More detail here - some are online and some are at the farm in Somerset.