Workshops and coronavirus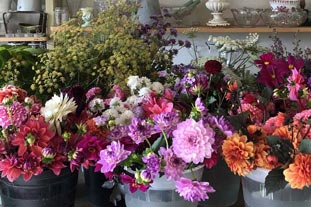 Workshops at Common Farm Flowers
We are following government advice and postponing all our workshops for the moment.
I hope you'll bear with us and be excited about picking up your day, or days, at Common Farm some time in the not-too-distant future.
We are exploring ways to put the workshops online as well, so watch this space. Hopefully, while we're good at the gardening and the floristry bit, we will learn fast to use the necessary technology effectively.
We are determined to find lots of ways to bring our gardens and our growing and how we create with flowers to you despite the necessary distance. If any of you have good recommendations for which platforms to share workshops on, and what we should use to film and edit, we'd be really grateful if you could share them with us!