Fresh cut roses for flower delivery...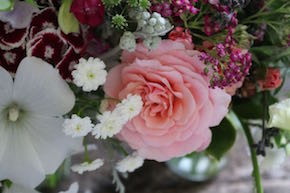 Fresh cut roses for flower delivery... At last!  Our main crop of roses live in a relatively exposed field slightly up hill from us, and they were nipped by that nasty frost we had  - do you remember?  And so they're flowering much later than the roses we have around the house, but at last they are flowering.  This is one of our new roses.  We're trying a selection from Peter Beales this year and so far I am LOVING them!  Good sturdy plants, beautiful flowers, and heavenly, really rosey scent.  Some of these lovely pink ones were in our posies sent to our regular client in Cornwall today, and once this main flower is over, there are lots of buds around it to come out, so, so long as our client deadheads her posies, and keeps the water and the vases clean, she should enjoy these roses for up to a week.
It's such a relief when the roses start flowering for us.  We'll have them now in good quantities up until the end of July, when they'll have a little rest and a feed, and then they'll come back in September and keep on flowering until the frost gets them.  Such hard workers!  Though I will admit, they have stiff competition re hard working achievement from the dahlias, the first of which I cut today too.  
Our flowers are all what they call British flowers - i.e. grown-not-flown - mostly in our fields here in Somerset.  Ours is a dinky farm, too small to count as a smallholding even so far as DEFRA is concerned.  But we love it, and boy does it produce masses of flowers!
So have a good evening all.  Fabrizio's babysitting here and I'm taking the Common Farm Flowers team out for supper at the Smithy down the road.  It's our half way through the year birthday treat for all of us.  Well earned.  See you later Karen, Sharon and Nic! xxx