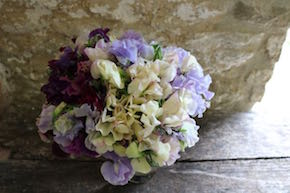 We love it when we get a special order from a customer who knows us well.  Some of our clients have been with us right from the beginning (2010) and know that if they ask for a special order we'll do our best to create whatever they've asked for.  Do you remember the ball of cowslips for a bride's bouquet a year or so ago?  Here we have another ball of flowers, this time about a hundred sweet peas, for a beloved Mama sent by her daughter in Scotland.  We made it by making three posies and tying them together to get this really tight ball shape.  I happen to know that the Mama might find the box and the wrapping and everything fiddly, and so also imagine she doesn't want to be handling a large bouquet that's especially heavy.  And so three posies tied together make quite a statement when they come out of the box, but if the Mama in question finds dealing with a large vase filled with water too much and too heavy, she needn't, as she can turn the bouquet into three light posies with one snip of her scissors: a posy for the kitchen, a posy for the sitting room, a posy for her boudoir... and the scent of sweet peas filling the air wherever she goes.  
Sometimes my job, growing and cutting English country flowers to make into flower delivery bouquets all around the country a real pleasure, and making a bouquet like this for a lovely client who I know adores her Mama, gives me such great pleasure.  I hope they arrive safe...
Sweet pea tips:
Successionally sow small quantities of sweet pea seed for summer long pleasure - we sow our first crop in early October, our final one at the end of April.  
Grow Spencer varities: still great scent and more bang for your buck with bigger flowers than the heritage varieties
Grow sweet peas in long lines rather than in teepee arrangements: it's easier to make sure you're cutting every flowering stem this way, and so prevent them going over
Grow sweet peas in deep trenches of houmous-rich compost so that their roots don't dry out, and plant them about a foot apart so that they don't fight with each other for water.  This will help prevent disease and mildew during the flowering season.
If you're going on holiday and want to keep your sweet peas flowering for when you get home cut every single stem, including buds, before you go, making sure you've cut all budding seed pods.  Give them a good water and a feed, and when you get home in a week you'll find your sweet peas flowering their heads off.
For more on sweet pea growing come on our cut flower patch workshops in the autumn, or for more on growing larger quantities for sale come on one of our Flower Farming workshops in October.
We hold lots of Garden School day courses here at Common Farm Flowers between Bruton and Wincanton in Somerset.  Have a look at the workshop list on our website and treat yourself.  Places on all our autumn workshops are selling briskly so book now to avoid disapointment.  
LOVE from georgie xxx