A taster for our Styling workshop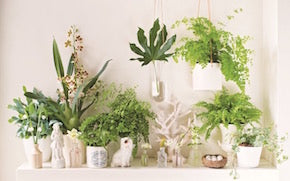 A taster for our Styling workshop.  A guest post from Amanda Russell, our tutor on the day.
We all want our home to look wonderful, and project our personality without making any costly mistakes.  As an interior stylist working on magazines and in interior design, I believe that everyone has their own unique style: but pin-pointing it can be a tricky one, with so many visual influences out there tempting you down different avenues.  Just now plants are having a moment - we all love a bit of greenery in our home.  To help you firm up your style identity, I've put together a few simple styling tricks to set you on the right track when you're working with plants.
House plants are slow growing, and can make a room appear static and repetitious.  Ring the changes: breathe new life into a space by using plants as props, and showing off your chosen hero object at its best.  The styling hero can be anything that takes your fancy.  I dip into my shop where i stock vintage ceramics, vases vessels and figures.  You might have a collection of coffee pots, a favourite beach find, a treasure picked up on an adventure.
Before you get cracking with the styling, first tidy up and clear your space.  Remember: beautiful styled images are about what's in front of the camera.  You may be very aware of the cluttered corner behind you, but so long as the view in shot is clear, nobody else need be any the wiser.  Tidying completed, gather together the pieces you've chosen to work with in one place.
To construct the narrative, choose plants of different heights, leaf shape, and colour.  Start to layer up the plants along with your hero object.  The rich texture of green on green gives the hero a backdrop to shine out from.  Alternatively, choose just one plant, frond, or leaf, and display it alone in a vintage ceramic vessel, or a tall cup, or a glass bottle, with a couple of shapely pieces.  With space around, you will be able to observe the design and beauty of the plant and leaf construction.  
Remember: be generous at all times.  A clear space where your hero sings in glorious isolation can have as much impact as a large, curated collection.
Be brave: remember, rules are there for breaking.  Try a variety of groupings, taking images as you go along.  When you look back over them, note how very slight changes to the styled arrangement can make a world of difference.
www.amandarusselldesign.co.uk
www.soulfoodstudio.com
Instagram @amandarusselldesign
Twitter @arusselldesign
FB @SoulfoodStudio