Questions to ask before deciding to do your own wedding flowers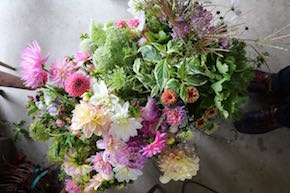 Questions to ask before deciding to do your own wedding flowers.
It's undeniably fun to do your own wedding flowers, and an achievement which you can be proud of for the rest of your life.
But before you decide to grow or order buckets of flowers for you to arrange for your big day, there are a good few points I recommend you think about.
Have you done any floristry before?  If not then do just pop out into your garden and cut enough flowers that you think will make up one of your table centres.  Put them into water, give them a good long drink, and then arrange them in the kind of container you had in mind for your flowers.  As you make your table centre, count the stems you're using, and keep an eye on how many 'hero' flowers (roses/dahlias/tulips) you're using, how much filler, and how much foliage.  Time this whole process.  This will give you an idea of how much time you'll need for doing your own table centres.  Say it takes you half an hour to make your table centre, and you have twelve tables at your wedding, and, perhaps, a bar, a buffet table, and maybe you'd imagined a larger focal arrangement for the entrance to the venue/marquee.  Multiply your stem count by the number of arrangements you plan to make, multiply the time taken by the number of arrangements you plan to make.  Now you can imagine how many helpers you're going to need (plus somebody to sweep up, empty the compost buckets, and make cups of tea and keep you supplied with cake.
Do you have enough helpers who won't have any other calls on their time to help you do your wedding flowers the day before your wedding?  And while they may be your best best friends who you love to bits, be honest, are they reliable enough to not only turn up on the day and do all this floristry, but also be available for a little light practising in advance?
Next think about YOUR time.  You might love the idea of doing your flowers, and you should if you're confident you can.  BUT, believe it or not, your wedding prep will not feel as though it's all about you. Our wedding traditions are a bit eccentric if you think about it.  First of all we make the most private and intimate of declarations, which really have nothing to do with anybody else but the couple involved, into a great big public event which we hold in front of 150 friends, relatives, relative strangers, work colleagues, old neighbours et al. Second, while we usually wear nothing more complicated than comfortable jeans, a sweater, trainers, and our hair up in a scrunchy, and we carry nothing heavier than our phone, we choose to make this declaration in front of 150 people, while wearing a dress which has cost us several thousand pounds, which is ever so slightly too small, or too big, or just not quite what we'd imagined when we first tried it on a year ago, at the same time wearing pinching shoes with a wobbly heel which we're not confident wearing, and sometimes, on top of that, we choose to wear a flower crown on our heads, which, after twelve hours will feel more like a crown of thorns than a fairy ring.  Third (there's more!) having gone through this public declaration of something essentially private, we then invite these 150 people to a dinner and dance, on the same day, while still wearing the tight dress and the pinchy shoes and the heavy flower crown which has a little tiny bit of wire sticking into your head, but which you daren't touch in case your whole £250 loose up do comes tumbling down before you're ready: 150 people to dinner when your most enthusiastic hosting until now is a great night in with lasagne and a beer and shop made icecream for pudding.  
It is those 150 people who might get in the way of your being able to do your own wedding flowers.  Organising the venue, re-doing the table plan (there are always people who can't come at the last minute, or who can only come if they bring their five year old,) fetching Auntie Mary from the station because she doesn't like to drive long distances any more, finding a plug for the music machine, realising that the place you'd thought the hog roast would work in can't because the venue forgot to tell you that they'd changed the lay out so for fire escape reasons the hog roast has to move... discovering that there's a missing bridesmaid's dress, or the bridesmaids' dresses are horrible, or or or... If all these last minute bits and bobs can guaranteed be taken care of by somebody else and you can be absolutely sure that you will have the whole of the day before your wedding ot have fun playing with flowers, then great.
Where are you going to arrange these flowers?  Fine if you're at home on a farm and there's a cool, north facing barn with lots of room in it for you to arrange in and keep your flowers in overnight.  If, however, you can't get into your venue until two hours before your ceremony, where will you do your flowers?  Do you have room at home?  Is home close enough to the venue?  Do you have room to arrange and then put your flowers somewhere cool overnight before driving to the venue?  Do you have someone who can deliver and install them for you (you'll be having the loose up do done so won't be able to do anything on the morning of the wedding.)
If the answer to all these questions is that you can, you do, you will, then YES! do your own wedding flowers.  But do think carefully before deciding to do it.  And do practise so that you have an idea of stem count and timings.  And then, if you'd like, come on our DIY wedding flowers workshop, and learn how to design your wedding scheme in a way which is stunnign but manageable, learn to work out your timings, where and how you can cut corners, and how to create your own stunning wedding flowers.  You might order some of our mixed buckets of flowers too... Though do give us a bit of notice.  I hate having to tell people we've sold out.