Why use lots of foliage with your wedding flowers?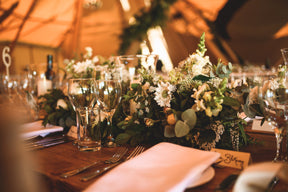 I'm a big fan of using lots of foliage with all my flower designs.  Why?  Because the foliage gives the flowers something to show up against, but also, foliage is luxurious, and gives a real herbaceous border feel to the flowers you choose.  Often we do flowers for weddings which are set in real gardens, either private, or in the gardens of hotels or gorgeous venues which have lush outside spaces.  Using lots of foliage in our wedding flowers mixes seems to really bring the garden into the event.  I'm no fan of flowers looking stiff and too arranged, and giving them a good bed of foliage to nestle in, stops any possibility of their looking like bedding in a municipal planting scheme.  
Foliage doesn't have to be dull, or green.  We grow quite a lot of dark, moody foliage, which goes with other things like ivy beautifully, giving a greater depth of field to a look, and framing flowers with a bit of dark glow, and we grow a great many green flowers, like amaranthus and Bells of Ireland, which have a very fresh, light green zing, and which stops any of the other foliage looking heavy.
Foliage gives your flowers a really herbaceous feel.  I recommend you ask your florist always to make sure there's plenty of greenery to soften your wedding flowers.
So why use lots of foliage in your wedding flowers?  Because it's lush!