Autumn colour at this Somerset flower farm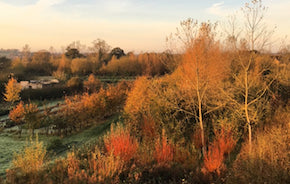 This autumn's colour here in our cosy corner of south east Somerset is, I think, as good as any you'll see anywhere.  There must have been a perfect combination of temperature and rainfall over the past months for the leaves to all turn together into such an amazing mass of fiery colour.  I never have time to get to Stourhead at this time of year (about five miles East of here,) but a walk around our garden is enough to cheer even the most winter-hating flower farmer (me.)
The colour here is much contributed to by our collection of willows - stems of burning orange, bright yellow, spring green, aubergine purple, are slowly revealed as the dried old leaves are blown off.  And then I think, it's time to go counting.  And Sharon and Fabrizio and I walk the willow bounds we planted by striking three foot lengths of our neighbour's pollard willow collection fourteen years ago, the trees from which in some cases are forty feet high now, and we count the new stems from this year.  
We pollard a good deal of our willow in January.  And those trees shoot long, straight whips, through the year, which now we look at for harvesting for our Christmas wreaths.  Each wreath takes up to nine, different coloured new-season whips, and for the wreaths to be successful, good circles, weighty with sap for the following year (if you like you could take them apart after Christmas and strike them and they would grow into new trees if the ground were damp enough,) we need the whips to be straight, not snapping with side shoots which weaken the circle (though these are good for dressing the wreath and 'wilding' the look of it, which we do with some of them.)
So this afternoon we'll walk around and count how many wreaths we can make.  The number is always limited as we only use willow from our trees here at Common Farm.  For me, it's important that the willow is fresh enough to strike and to grow into a new tree.  After all, Christmas is a time of magic, and what could be more magic than a willow circle to hang on your door, filled with the promise of growth for next year, their fiery colours bright in the dark winter, keeping us warm until the first days of spring.