Flower delivery bouquets from Common Farm Flowers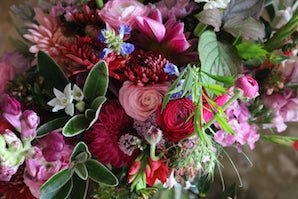 No two bouquets of flowers from Common Farm Flowers in Somerset are ever the same.  No matter what time of year, we take the best flowers available, all grown not flown, as they say, all exclusively British flowers, and we create bouquets to order for delivery all round the UK.
This bouquet was sent this morning, 3rd November 2017, and is a classic of the season, warm pinks and reds with a touch of silver velvet in the foliage.  I made it myself, walking round the table where our material is all standing in buckets of fresh water (no lying flowers flat on the surface, out of water, letting them bruise and dry out in the process here,) and I took fifty stems of gorgeousness to make a bouquet to send, in this case, as a thank you.  Today we've also made bouquets for congratulations and to give solace - so many reasons for giving a bouquet of English country flowers.  
No matter what time of year, or what the reason for sending them, fresh, garden flowers sing with love from the giver.  Ingredients in this bouquet: dahlias, ranunculus, paperwhites, brachyglottis, cosmos, hesperanthus, sweet william, snapdragons, cineraria, chrysanthemums, and more...