Flower farmers year - November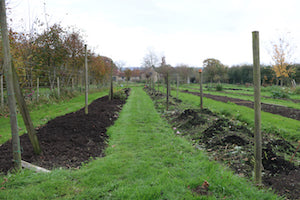 In this flower farmer's year, November is the month for clearing, mulching and prep.  We have seven hundred and fifty running metres of metre wide beds here at Common Farm Flowers between Bruton and Wincanton in Somerset, and to keep our thick, Somerset clay workable, every inch of those beds needs mulching before the growing season starts next year. 
One barrow of mulch (mostly municipal green waste compost from Viridor - and some very well rotted horse manure) covers a three metre stretch of metre wide bed.  So that means we'll have to fill two hundred and fifty barrow loads to cover all our beds.
We've had delivered sixteen tons of compost and it's in a great big heap in our yard.  We barrow loads one at a time by hand (no tractor, plus this stilightly fiddly way works for us as our farm is laid out badly so that the wildlife can flourish, often at the expense of our backs.)  
First the beds are given a light hoe.  Then the barrows of mulch are appied.  Sharon and I did ten barrow loads yesterday.  If we do ten barrow loads a day, five days a week (unlikely, but possible) we'd be done in a monthish.  More likely our barrowing will be, as is most of our gardening, done in grabbed hours when we can, and so we won't be finished until the end of February.  But I'm OK with the end of February... so long as every inch of those seven hundred and fifty running metres of beds gets mulched.  
For more on the Flower Farmer's Year see my book, or to turn yourself into someone who farms their flower garden for profit, come on a Flower Farming workshop.  A student on my most recent flower farming workshop wrote to me afterwards:
'Just returned from a riveting Saturday with the bright and zesty Georgie at CFF on her Flower Farming workshop, which was full of valuable insights and thinking, as well as practicalities from both floral and business perspectives! Georgie brings the wisdom of her other life experience to the table as well as her enthusiasm for flowers.  I was very struck by her useful ideas for all of us around the table, who had a range of flower farm ambitions and time scales.  Her bigger picture concerns re the environment and health issues with flowers grown in some parts of the world are especially well made, and her desire to share, and encourage others, inspiring.  She is the opposite, which always sets people apart, of 'hands off my patch.'  Highly recommended if you think flower farming might be your thing, whatever your scale, or ambition.'