Blue and white wedding flowers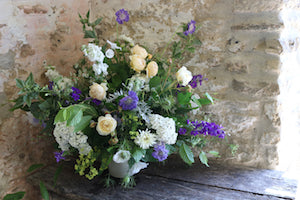 Here's a beautiful pedestal arrangement made for a June wedding at East Pennard House (a stunning wedding and event's venue near Shepton mallet in Somerset.)  
I love creating wedding flowers with the gorgeous blooms we grow here on our flower farm between Bruton and Wincanton in Somerset, and I love best that no two schemes are ever the same.  Because we grow most of the stock we use in our wedding flowers, no matter what the colour scheme, the look, while always classic English country wedding flowers, does change from week to week.  In June, when these flowers were created, the tree foliage is still very fresh and green and makes a great background to the flowers.  We create herbaceous border style arrangements, and so the look is always quite luxurious and rich, and in June the roses are at their best, and because we grow our own, we can have these long, bendy stems with more than one head of rose on them for our focal arrangements.
The bride had a largely blue bouquet with sweet peas and roses and larkspur and cornflowers, the flower girl, wearing dark blue, had a largely white and cream posy, and we made masses of jam jar posies for pew ends and for afterwards at the Coach House reception.
This piece is made flower foam free in a small bucket, with a crown of chicken wire for a frame, and strong tape to keep it altogether.  it's always good manners to leave some of the wedding flowers in the church for a Sunday service, so while all the pew end posies were taken back to the coach house at East Pennard to become table centres after the ceremony, this lovely piece was left for the Sunday service and for the regular church congregation to enjoy.  If you do look at East Pennard House for your wedding, the church is lovely and they're happy to welcome couples from far and wide.  You then walk up to the coach house across the park at East Pennard for the reception.  it's lovely.
And if you're looking for English country flowers for your Somerset, Dorset, Wiltshire or Devon wedding, do give us a call and we'll make a bespoke quote for you.  For smaller schemes we can also delivery UK wide.
And thank you for taking the time to read this.