Wedding flowers prep in August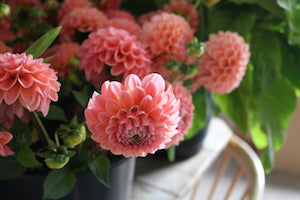 So tomorrow we're creating garlanding to arch over a church porch, wiillow circles of flowers and foliage, more garlanding for the lych gate, three big pedestals, pew ends, bride's bouquet, bridesmaids' flowers, fresh petal confetti, buttonholes, a fresh flower wreath for the reception front door, and the clever bride, her mama and her sisters are going to be making the table centres for the reception out of buckets of fresh cut flowers they're collecting from us in the morning. 
It's a classic Somerset country wedding, with a church service in the afternoon, and a marquee in the garden of the bride's home for the reception afterwards.  It's a beautiful marquee lined with block printed fabric by Apex marquees.  There'll be food by the inimitable Victoria Blashford Snell, and all British flowers created by us. 
So we'll all be up to our ears in flowers tomorrow.  And I'm looking forward to it.  Though the forecast is damned hot!  And I flake in the heat.  You should see me now after a long day when it's been sweltering!  To put it mildly, I need a bath!
So I'm waiting for the heat to go out of the sun before I go out with my little trolley and cut just the last few bits we need for the bride's bouquet and the bridesmaids and the flowers for the hair - the detail which makes our flowers exceptional and which we're lucky to be able to have because we grow our flowers and so can choose the very best in the garden on the day, fresh as a daisy, to delight our clients.  
Tips for cutting flowers for a wedding:
If you're cutting flowers yourself for a big do, always cut when the heat has gone out of the sun.  
Take your clean bucket filled with fresh water directly to the plan and cut flowers straight into the water.  Never walk about with flowers wilting in your hand - always put them in water.
Give flowers a nice, long drink before arranging with them.  We cut the day before we arrange a wedding so that the flowers have plenty of time to fill up with water before the stress of being asked to perform.
In hot weather do spritz the flowers - they absorb water through their leaves and petals as well as their but stems - plus this makes them look dew fresh on the day.
Remember to top up water levels and change any dirty looking water for fresh.  For examples, when we make jam jar posies tomorrow we'll have fresh, clean jars, filled with fresh water, to transfer the posies into on Saturday morning.  
And then the dream team of Andrew Jones, whom some of you will know as @pitcombe on social media around and about, and Lorraine Pullen, known across the horticultural blogging world as @lorrainesveg are coming to help - with Sharon and me we laughingly call ourselves the Dream Team.  
And I know our feet will hurt by the end of the day, and our backs will be giving us gyp, and my arthritic hands will ache in the morning afterwards, and we'll be rushing about like mad things.  But I also know that we'll have a great day, the world will be put entirely to rights, we'll laugh and eat a lot of cake (Andrew is the king of cakes and will, I have no doubt, come loaded with them.) And a happy time will be had by all.
On days like today and tomorrow I know how lucky I am to have this job.