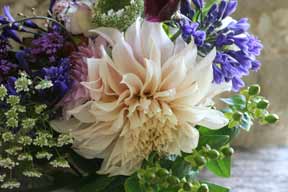 Goodness the heat! Throughout early July there was I, sagely nodding my head, and forecasting downpours from the 14th July (St Swithun's Day,) flooding us out until next March. Well St Swithun's came and went and here I am still wiping sweat from my brow in a relatively cool office and avoiding the garden unless it's between 5 and 10am in the morning.
The flowers are holding up amazingly well. We successionally sow flowers so that we have new crops coming in to flower every six weeks or so, which means we don't have to water old crops trying to keep them going, but can focus on the new, helping them get their roots down by not watering too often, but watering well when we do, and watering at cool times of day, ideally morning so that excess water has time to evaporate during the day helping us avoid mildew and other damp causing issues. Of course right now this minute it's 6pm and I'm watering the new crop of sweet peas just beginning to flower, so please do what I say, not what I do!
I also say do be careful if you have seedlings hanging in there for autumn planting - I keep mine shaded with mesh during scorching heat (any shade will do!) In fact, I must just go and move those new seeds germinating for a late crop in the small tunnel before they scorch off…
For more on looking after your garden during the heat, do see Mark Diacono's piece in the Telegraph in which he asks lots of top gardeners (not just me!) for drought survival tips. Or see one of our blogs from July in which I share top tips for drought gardening! (By the way, I've adjusted my wise pronouncing to deluges on or after 15th August, but stand by my conviction that once it starts raining properly it won't stop until March… we'll see!)
So aside from keeping the garden alive, what else are we up to? Well, by popular demand we are putting on more garden tours on 26th September - 10am and 2.30pm. They take about an hour and I show you round myself and afterwards there's tea and cake and time for lots of questions. There'll be masses to see: our gardens aren't 'put to bed' till mid November, and the dahlias should be at full blast.
We don't hold workshops during the school holidays, but in September and on through the autumn our brilliant days in the garden start again, so do book yourself in for a full day treat. Our workshop days all include a delicious lunch, and we only have small groups so you can be sure to really get your money's worth out of the day.
And we are still fielding wedding flowers enquiries for weddings through the rest of this year as well as booking up nicely for next. Not everybody plans a year in advance, and quite often, for an intimate elopement style wedding, we might not get more than a week or two's notice. I LOVE a last minute bride, ringing me up with a 'We're getting married next Thursday at a registry office in Bath and having a lunch afterwards in a pub, can you help?' type enquiry. Though I love the full Fragonard events too. Do have a scroll through our blog, our Instagram and our Pinterest pages to see ideas and work we've done this year so far, and as we get time we'll keep adding wedding flowers reports, not only because I like to show off what we've done, but because they're useful if you're looking for ideas/venues/places to stay etc.
Have a fabulous August!