Christmas Willow Wreath Workshops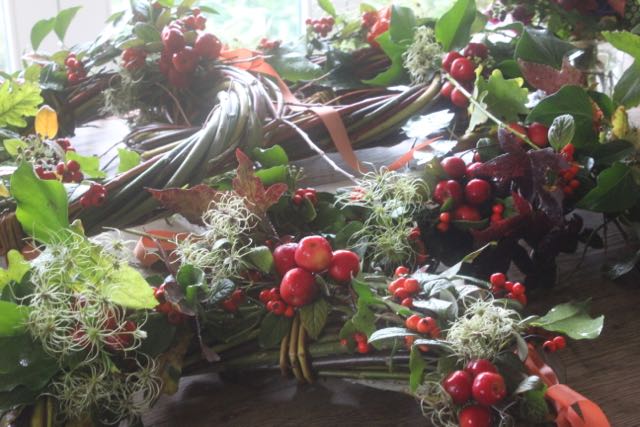 They're the most beautiful kind of wreath, absolutely top of the door dressing fashion this year, and we not only know how to make them, but can teach you too how to make yours.
The Common Farm Flowers willow wreath is made with freshly cut willow, which is then easier to use than other willow which will have had to have been soaked for days but might still be brittle.  Ours too has this incredible colour because the willow is so very fresh (we cut each wreath to order, including the ones you make on your workshop.)  We have green, yellow, firey orange, and dark aubergine coloured willow, which when carefully twisted into a perfect circle and bound makes a circle of magic for you to hang on your wall all year round.  
We then teach you to make a garland, a skill which you can translate into making more goodies for your Christmas house.  The garland is the Christmas decoration.  We have stopped using wire in our garlanding so the whole is absolutely biodegradable.  We carefully attach the garland to the willow circle, add ribbon, and voila! your stunning door wreath, made by your own fair hands, is ready to hang on your front door.
These wreaths are not especially easy to make, but with mine and Sharon's help, you will go home with a beautiful door wreath which you can dress afresh year on year.  Or, like come of our clients, you can order a fresh one every year, and have the willow circles hanging together like a willow art installation on a wall outside while they age gently.
The ingredients we use for the garlanding are all locally grown, and this year include a glut of amazing cherry red crab apples, which not only make great little baubles for your wreath, but might also attract a hungry robin... So long as you're on the qui vive enough, you might be able to capture this moment of your door wreath feeding your wildlife on film for your family Christmas card.
So we make your wreath in the morning, and garland it, and feel very proud of how fab they all are.  Then we stop for a delicious seasonal lunch with wine and mince pies to really get us in the mood for Christmas.  And then we make a lovely Christmas table centre for you to take home with your wreath.  All British grown ingredients, no wire and no flower foam, just gorgous, fresh Christmas decorations for you to dress your house with and enjoy throughout the festive season.  Let's deck the halls!
At the mo we have 10% off the whole of our website, where you can order flowers and wreaths for Christmas and on into next year, as well as book workshop places for yourselves and your friends and family (what great Christmas presents these all make!) Just quote the code NOVNEWS when placing your order, and hopefully I'll see you soon at one of our workshops, or be sending you gorgeous British flowers or wreaths through the post.