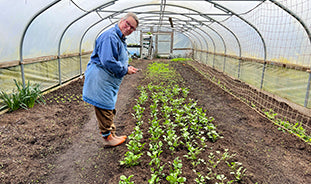 So far this week (and this is being written on Monday!) we've:
Started planting out our annuals! If you missed my Planting Out demo last week you can buy the recording here

 

Started a new Twitter account (after the last one was hacked and not returned) so please go and find me on there if you followed my old account 

Posted a brief update on The Project for our YouTube clubbers

Planned a YouTube Q&A session - what we call a 'Live At Five' - for later this week, taking club members questions on the topic of 'social media' (you can find out all about the club here.)
I'm also planning a couple of YouTube videos to share over the next few days. Find us on YouTube here, if you've not already joined us there. And I've a workshop and demo to deliver online later in the week too - see below for details of these.
And a word about next week - I am really looking forward to welcoming students to Common Farm Flowers for our first face to face session of 2023. There's still chance to join me for the Career Change Flower Farming workshop on Tuesday 4th April if you can get to Somerset! 
Phew. That's it for now. Let's hope the rest of the week goes as well as Monday has! 
Georgie x