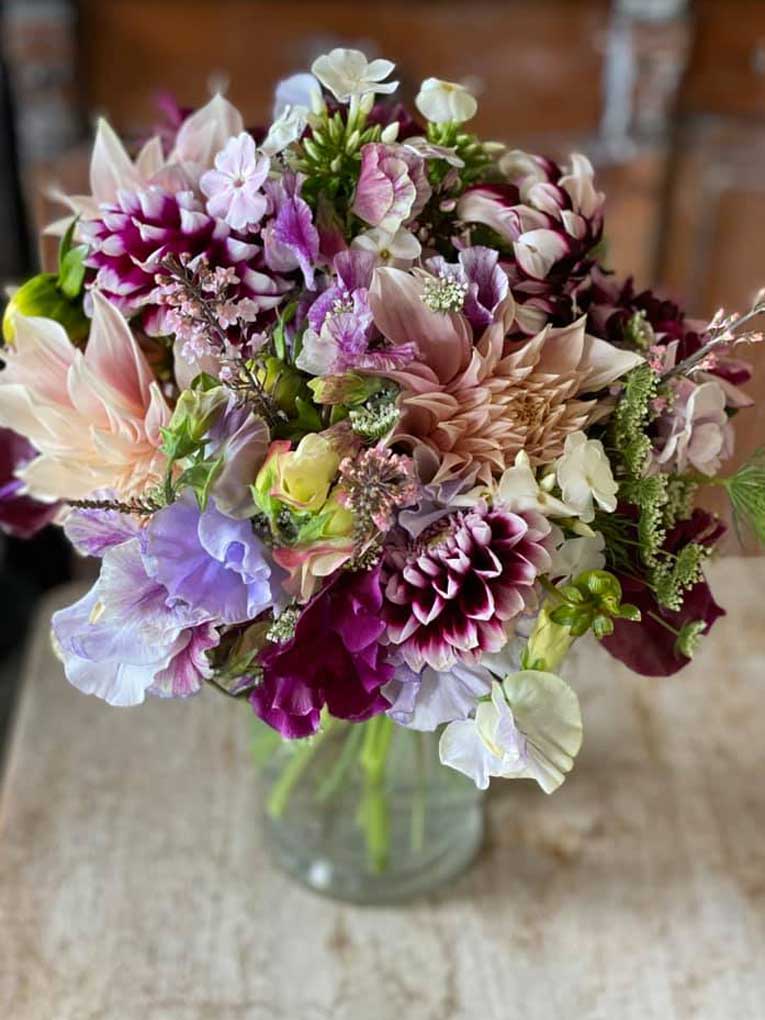 Well hello there my flowery friends. 
How can it possibly be the beginning of August?  I know I say this every month, but you might have thought that during a pandemic time would go more slowly.  Mind you, we have been busy… 
I've realised in my old age that THE challenge for a small business with a tight marketing budget is to have a website which not only looks nice but works!  To this end we've just launched a new, better, sleeker, more efficient, up to date, happy-to-send-both-you-and-me-emails-even website.  Do please go and order something and let us know the slightest glitch you encounter so that we can smooothe the service even more.
And to go with this glittery shiny new website?  Well, we are gently opening the garden gate here at the flower farm to visitors again.  Most of the workshop days postponed from the early spring and summer have been re-listed, AND, for those of you who really would rather not travel, or who live further away, we have leapt into teaching online workshops.  All the days both here and online are listed on our website – do have a look and see if there's something that tickles your fancy.
To reassure you that we have taken every precaution to make sure we keep the risk of COVID infection firmly at bay, we have taken the Visit Britain test to ensure that we have thought of everything we need to where COVID is concerned.  Please see our website for more information, but also be reassured that there will be a quick chat on the subject when you arrive here so that everybody feels safe and reassured. 
As per government guidelines we can only welcome five students or visitors at a time, so be assured that you'll never find yourself in a crowd here.  We have also invested in a beautiful sail which stretches out over the meadow at the far end of the studio, so all of our workshops can be held outside. 
Our online workshops are always held live, and are straightforward, matter of fact, and enormously informative – all about teaching you to be able to grow and create.  To that end we only have fifteen spaces on each so that there's time for everyone to make sure they can ask questions.  We also record the sessions and the recordings are available afterwards exclusively for the students on that session to be able to watch again.  We send notes too afterwards so that you know the varieties we used in the arrangements, the names of the seeds we sowed, or the contact details of the suppliers we recommend.  We have done a few taster sessions online and I know they were successful because of the speed with which students immediately booked on to the next session, and sent emails saying things like, 'Georgie is a natural communicator.'
So do have a look at the days we have here going through the autumn, and whether you book an online workshop, or some time here at the flower farm, we aim not only to inspire and enable you to make more of your own garden and floristry, but also give you an opportunity to step out of the humdrum and experience something fun, new, sometimes even life changing.
Meanwhile the dahlia season is fattening up nicely.  I know I love them, but between seasons I forget how much I love them.  So watch out for the bouquets you order – they'll arrive with these most amazing can-can dancing flowers and all the foliage and filler we grow to go with them.  I predict a lot of berry, fruit and acorn action this year as its shaping up to be a 'mast' year, from the Old English 'maest' for the abundance of nuts and acorns which fall in such a season giving masses of food to the foraging livestock as well as stores for people too. This is one of those years when you're likely to find branches of hazlenuts in your autumn bouquets.
And I'm excited to say we have two weddings to work with this month: small, and so absolutely exquisite.  I find I can't wait!  Of course most of the weddings and events we had booked in for this year have been postponed for next, and quite a few sensible people have booked in their events for next year well in advance because they know that suppliers are going to be super busy. 
So have a happy August friends.  And I hope to see some of you, or even 'see' some of you at workshops both physical and online.  Don't forget we have cheery flowery updates (and some latest re #teacaketheborder,) across our social media (see links below) most days.  And with these new online workshops coming along I feel a refresh of the old youtube channel coming on too.

Georgie x