Enjoy a free demo - sowing biennials
Posted by

Georgie Newbery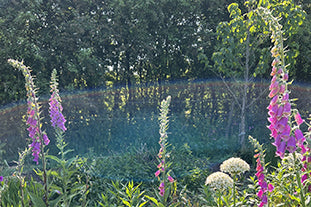 Top tips for sowing biennials for flowers next spring and early summer! 
In this video, flower farmer and florist Georgie Newbery of Common Farm Flowers in Somerset, South West England, will show you how you can sow biennial seed now and have a blaze of colour for next spring and early summer.
Find out what we mean when we talk about biennials and hear why it's good to sow them. Georgie will also show you how she chooses varieties, and sows seed for maximum success with germination. She'll encourage you to plan ahead so that you'll have good sized plants to pop in the ground in the autumn, which will give you lots of scent and colour in the spring and early summer next year.
Georgie always says that sowing biennials means you steal a march on the following year. People often find seed sowing surprisingly stressful, struggling to choose the right compost, the right seed, struggling to know how much to sow, how to water, how to prevent seeds from damping off.
Georgie will encourage you to slow down, take a deep breath, sow what you need, and be brave looking after your seedlings. Sowing biennials is a declaration of faith in the future – surely a great thing to do now.
'Sowing Biennials' is usually a 'paid for' online demo, offered by Georgie each year. But this year she's offering her YouTube subscribers this demo for free! This is partly a thank you for all your support. But we are also testing out something new for the future....
Until the pandemic hit, Georgie offered a series of face-to-face, day long workshops at Common Farm in Somerset. With COVID came an urgent need to pivot the way workshops were delivered and they were moved online and delivered via Zoom. What this meant was a wider variety of workshops and then demos could be offered and students from all around the world started joining in. And so this has been the way workshops and demos have been delivered for over 3 years now (with some taking place back at the farm again too.)
As with all small businesses, it's important to be aware of your customers needs and something we have observed in the last few months is a slight shift in the way people are accessing the online workshops and demos. We have seen people booking onto the sessions but, due to other commitments or time differences, they don't join in live (which is of course absolutely fine and is why we have always recorded the sessions.) Instead they are happy to receive the recording of the session, which is always sent out shortly after it has taken place. We have also noticed an increasing number of people asking if it's possible to buy a recording after a session has taken place. And so we now, as standard, make the recordings available to buy for a short period of time afterwards and this is proving very popular.
So, we're going to make some changes to how we offer some of the workshops and demos and records these sessions from the outset, rather than delivering them live. These will then be available to buy at, probably, seasonal points in the year. This won't apply to all of them - some we know people really value joining in with live, being able to ask Georgie questions, being able to share knowledge, experience and suggestions with other students. But we think this will work well for some of the workshops - and Sowing Biennials was first on our list to do this with.
And so this is why, instead of selling places on this demo, we are sharing it with you for free! It's a great way for us to test out how we film them and how you then experience a demo in this way. So do watch this through, hopefully you will find it interesting, useful and inspiring and do let us know what you think of this format.
Please upload banner from store admin blog pages
Trending Now
Please select collection from store admin blog pages