January news from the farm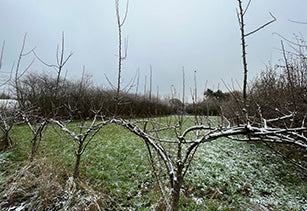 New Year - exciting new projects!
Well I hope you all managed a bit of down time: switched off the emails and logged off the socials for a few days over Christmas.  Here it was full on family and the family of old friends which is just how I like it.  Flower farming is a full on activity, and there are months when I work week after week of twelve hour days – those months are light months when the sun rises early and sets late, and so do I.  In the deep winter I give in to my inner hedgehog and hibernate.
However, I don't know about you, but as soon as the shortest day is past I begin to feel the return of the light – though it is seven weeks from the winter solstice until we are back to ten hours of daylight, and the sap can hardly be described as rising, I can feel the draw, the pull to action, and while my bed, covered in a deep layer of quilts still holds a certain magnetic appeal, I feel the days lengthening even when it's only by a minute or two and so the year comes into focus, and the objectives for the next twelve months do too.
This year we have a big project.  I'm calling it THE PROJECT.  There has been a falling down barn in the field here since we moved to Common Farm in 2004 and at last we have planning permission to turn it into the hub for the business.  So as a declaration of hope we have commissioned J & C Bird Groundworks to start clearing the site, and TA Green to be ready to help us make good this old ruin and make it fit for purpose.  There's room around the building to make a small cut flower garden, the size of a domestic garden, which would really help with my teaching and social media – after all, not everybody wants to grow acres of cut flowers, but many would like to know about growing a cut flower patch in a smaller space.  And the rest of the flower farm will spread out in a large rectangle with the barn in the middle, a less fancy version of the trials beds at RHS Wisley which I love as a layout.
I think the process of creating this space and making the garden round it will be useful and interesting: we need to watch our costs, create a space encouraging to wildlife as well as comfortable for ourselves, and make a new garden out of what will be a building site.  So we thought we'd share the highs and lows of this project with our new club members on YouTube.  What club?  Well that's our other project for the year. 
Common Farm Flowers started as a business when my neighbour sent me a bouquet of flowers through the post.  I opened the box of flowers that sunny April morning and had a lightbulb moment: I can do this, I thought.  And so we started a retail business growing bouquets.  Nearly thirteen years later we are still growing a great many flowers, more than ever, but in a much more strategic way, and the majority of them are sold wholesale to luxury wedding florists or are sent by the van load to London town. 
Why less retail?  Why fewer weddings created by us?  Because over the years we have realised that the thing we love to do best is to help other people realise their dreams to be flower farmers, to create with garden flowers, to grow an environment around their own houses where bees and butterflies can flourish. 
In 2022 we welcomed over a thousand students to our workshops and demos, both here at the farm and online.  At our online sessions we can have people from Australia, New Zealand and both east and west of the USA as well as from all over Europe, all at the same session.  I'm really proud of the fact that there are people growing flowers, using fewer pesticides, abandoning floral foam all around the world, because they've been on our sessions. 
And so we're expanding the way people can access the way we teach.
You can come on workshops at the farm, and that's fantastic because it's hands on and you stand in the fields and feel the space and proportions, see it all, untidy corners and all.  These groups are kept small, a max of ten people, because then I can make sure that everybody who is here is fully included in the day, and has their own questions answered.
You can take part on workshops online – again, small groups, a max of fifteen.  These sessions are always recorded and sent out with notes.  They are designed in such a way that you can take the modules that suit you, so creating a sort of course, if you like. 
Our online demos are always popular – these cost less than our workshops and are often focused on seasonal subjects ranging from sweet pea sowing to creating a particular kind of foam free floristry.  Again, the recordings are sent out and there's usually time for a bit of Q&A at the end.
And now we are going to have our club.  This is going to be based on YouTube, and will be an informal way for people to engage with what we're up to.  The club membership will give you:
Regular live chats, like the ones we used to do on Instagram, based around a particular subject, with lots of questions based loosely round something topical for that time of the flower growing year.
Regular videos made specifically for the club members – videos with more details on the how tos and specifics than I include in the ordinary YouTube clips.
The story of our restoration of the barn in the field, THE PROJECT: We will be essentially creating a new flower farm layout around a barn restored especially for our flower business.  I'm sure people will be interested in the decisions we make based on years of experience which might save them time and money themselves.
The cost will be £8.99 per month per person – YouTube takes half of that – and I will make sure that there's plenty to keep the club members interested.  To sign up just ping over to our channel and click on the link to join. Of course, our usual YouTube content will keep coming so if the membership club isn't something for you, you will still be able to keep in touch and see what's going on here in Somerset (and around the UK.) 
And last, but by no means least, we have our social media where the content is free, fun, slightly created on the hoof, and based on whatever activity is happening here that day.
So 2023 promises I hope an abundant flower harvest, but also more people around the world engaged in the business of growing flowers, whether for their own pleasure or for profit, but always for the benefit of their environment, and so therefore themselves.
I say let's not have new year's resolutions where we give things up, let's have clearly identified objectives with a carefully strategized path to achieving them!  Hopefully I'll see you in my new studio barn, either in person, or on line.  Good luck to all with 2023.
Georgie x