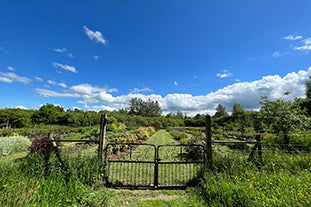 What's happening in the garden?  Good question! With weddings and workshops and trips to London are we behind?  Not quite! 
The dahlias are sitting ready to plant out on Monday next – 30th May, two days earlier than my calendar date of 1st June.  
And the rest of the trayed seedlings are fattening up nicely, being planted out in chunks.  I treated myself to an array of new back door pots which have been littering the yard since. 
So when the garden is finally planted up for this year I'll have a rave up by the back door and plant those pots up with gorgeous colour – I must go and see if they have trays of wild-coloured coleus at the plant nursery. 
And then in a fortnight or so it'll be time to sow next year's biennials.  And so the year turns. 
I always feel that sowing biennials for next spring is a commitment to flower farming for another year. 
Join me on my biennials workshop and I'll help make sure next spring and early summer is a blaze of colour for you too.