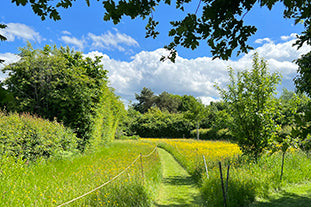 As May sped by in a blurr of weddings, workshops and fun trips to RHS Chelsea I was grateful every day that I stopped sending flowers UK-wide this time a year ago.  A huge risk, I thought we might go bust as I called a halt to the daily send out of twenty or thirty bouquets which I'd been creating myself all alone in the barn week after week all through the pandemic.  
I advise people running 'lifestyle businesses' to keep a strong eye on the point of their exercise.  I tell them that it's very easy, if they're good at what they do, to find themselves being wagged like the tail of their business dog – an exhausting situation.  A year ago I was being wagged hard.  So I put my money where my mouth is and shrank the business so that we only create and deliver flowers locally.  And the local market has stepped up and filled the gap. 
We still grow the same amount of flowers, but the way we sell them has changed.  Not sending them out by courier means we no longer spend a fortune on boxes, on so much packaging, on the time booking the flowers in with the courier, the time handling the nail-biting business of the couriers delivering late or not at all!  This bringing of our costs down has meant that the 'enough' described by the queen of 'slow business,' Jane Lindsey of Snapdragon Online, is less.  Our overheads are lower.  We can work cleverly, achieve more, spend less, both financially and environmentally, by dealing with our local market. 
I was taught that in order to be a proper business one had to be chasing growth.  Well I'm here to tell you that the thing to chase is efficiency and low costs, and that running a business in a way that you think you ought is a hiding to being wagged by the business as though you were an excited dog's tail.
We offer business workshops for flower growers (online or at the farm), lifestyle businesses, social media for small businesses – all of which sell out.  Pop over to our 120+ five star Google reviews to see whether a place on one of them might be well worth it for you. 
You can book your place on all our workshops on our website.
Meanwhile we've been having fun catching up on weddings and events, some postponed for almost two and a half years! 
I love doing weddings (so long as they're not too far away from our base in south east Somerset, and so long as I don't have to do big installations every week!)  You can see the lead up to and final installations of our last couple of weddings over on YouTube. 
I love even more teaching other people to be their own florist, cutting and creating with flowers from their own gardens and those of friends and neighbours to create something they can be enormously proud of on the big day, AND which might inspire them to take their creativity further – another lifestyle business anyone?  I love that on my recent DIY Wedding Flowers workshop three of the students were looking forward to doing flowers for friends and family but were also looking seriously at the possibility of growing flowers to become florists themselves. 
We have a host of wedding and event floristry workshops and online demos coming up - which will suit you if you're planning to do your own wedding flowers, are helping with event flowers or simply want to expand your own floristry skills so you can create pedestal vase or big urn arrangements. Click here for all the info and I hope to see you here at the farm or online soon! 
Finally, catch up with Common Farm Flowers in the media! Chelsea was great fun – you can find out what my colleague Nicola and I thought about it if you catch up with Episode 6 of BBC Points of View on 29th May.  More challenging was a chat with Emma Barnett on Woman's Hour about why anyone might conceivably mess up their house with horrible vases of flowers. 
Georgie x