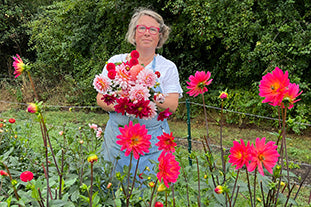 Well hello friends.  I'm sorry I've been rather a stranger to the newsletter over the past few months, but the summer is always a tough time for making time to chat, and this summer I've been hareing up and down the M6 looking after Mum who's had a broken ankle.  You'll be glad to hear Mum's very much on the mend and so slowly the petals are settling here at Common Farm too.
There's nothing like an accident like Mum's though to remind me that refining the organisation here can always be minutely adjusted for increased efficiency.  I am sitting here now at Mum's house in Cumbria, as Mum reads out loud the ingredients of the special scar mending oil with which she's supposed to massage her ankle twice a day for three months, and making a mental list of things I must do before the end of September – and therefore before the end of August in order to make the September list possible (I am writing this at 12.08pm on 24th August.)
I must order the autumn order of four bags of Lakeland Gold from Dalefoot so that when we clear the polytunnel I have something to mulch it with.  I must clear spent annuals from the Pitch by Yard beds to make room for biennial seedlings to be planted out.  There's still been very little rain at Common Farm so I need to make sure seedlings are watered, though the plants in the field are to be left to do their best.  Luckily (I know, matter of opinion,) we are on thick, Somerset clay, so while the surface of the field is riven with deep cracks, if I screw a pig-tail spike into a crack the bottom of it comes up caked with damp soil from as little as a foot down, so all is not lost. 
If the searing heat of this summer has taught me anything, it is that mulch is, as I have always thought it must be, the most useful thing you can do for your garden beds.  It feeds the soil, it aerates the soil because the worms come up through the soil to pull the mulch down, and it protects the soil from losing surface water to heat, and so carry on mulching I will. 
So what do we have lined up for September?
Well a few lovely weddings – one much postponed from before Covid – all of which will feature dahlias.  If you click the image below you can see a tour of the dahlia patch, where I consider which dahlias to use for one of the upcoming celebrations. We are taking bookings for wedding flowers for summer 2023.  We have decided to focus on DIY weddings in future – so if you'd like masses of mixed buckets from us for you to create with for your special event do let us know.  It's worth booking well in advance as we do sell out.
We will be increasing our wholesale offer next season having been working with the inimitable Caroline Redpath of Fleur Provocateur this season.  We will not be piling our product high or selling cheap, and our product will only be available to collect from Common Farm, but the material we grow is absolutely perfect for really high end luxury wedding flower work so do get in touch if you would like. 
I think I'll do a couple of florists' tours in the spring and early summer so do email nicola@commonfarmflowers.com if you'd like to add your name to a list for one of those.
On the subject of dahlias (be still my beating heart!) we have our at-the-farm dahlia day coming up.  This is a day for a small group (max ten people) to spend the morning at the farm considering propagating, growing, harvesting, lifting and storing dahlias, with top tips for feeding and management during the season.  In the afternoon we'll take the dahlias we've cut in the morning and make some wonderful bouquets while looking at different ways of designing and working with dahlias as cut flowers.  With branches of crab apples, and all sorts of end-of-season goodies from the garden this will be a truly lovely day out of real life while learning a great deal about this gorgeous and most giving of flowering garden plants. 
For those who can't get to Common Farm we also run an online dahlia workshop – without all the hands-on experience, it is still a session full of information for both the newbie and experienced dahlia grower.
And if you're free on 30th September and can get there I'll be giving talks and demos at the RHS Discovering Dahlias day at Wisley.  Wisley's always worth a visit and their special dahlia day promises to be a great day out.
Meanwhile our autumn workshop and demo season is full of interest.  Book a place and treat yourself to a new skill, or take your business ideas and refine them.  From The Flower Farmer's Year through to our popular Lifestyle Business workshops to sessions focussing on how to manage your social media if you are a small business, we are here to help you identify and work out how to achieve your objectives.  I consider my main job as one in which I make it possible for other people to see how to create successful small businesses, whether that be flower farming, or any other creative skill they dream of monetising. 
My friend Ben Ranyard, with whom I've curated a mix of hardy annual seeds I'll be sowing at a workshop on 20th September (already sold out the recording may be available to buy afterwards - email nicola@commonfarmflowers.com if this is of interest), gives me the best compliment when he tells people I'm not fierce, I'm just good at showing people 'how to get their shit together.'   So have a look at our autumn workshop and demo schedule and book a place – it may change your life.
Our flower season officially comes to an end at the end of September so I'm planning a bit of a showstopper with one of my students, Sue of Fosse Farm Flowers.  Watch out for that and all the other flowery fun we get up to on our Youtube channel where we have a popular vlog full of tips and tricks.
Right, I'd best get on and send lots more instructions back to the farm while I sit about here at Mum's now listening to Dad practising hymns to play in church on Sunday. 
Georgie x