Monday update - 3rd April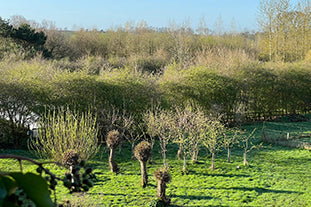 If you've seen my Instagram stories this morning you will have already seen that the week is starting out in the most GLORIOUS fashion. Yes, there was a hint of a ground frost very early on but we now have wall to wall blue sky, which is most welcome after all the rain we experienced in March!
It's the school holidays here in the UK, as we head towards the long Easter weekend, but there is plenty happening here on the farm still. So here's a round up of what's to come this week (and a diary date further down the list for club members.)
Maintaining productivity over school holidays when running business at home - I've been running this business since my children were babies and so have a lot of experience and tips to share with you on this topic! 
Then, let's have some floristry (the farm is suddenly bursting with flowers ready for cutting) - how about I share some ideas for Easter flower arrangements for a family house party?
I'm planning an unexpected bonus too - keep your eyes open for this one. My clue - 'it's good to declare intentions!'
Tomorrow - Tuesday - we welcome our first students of the year to the farm. They will be joining me for a day learning all about flower farming. The weather looks good, the farm is springing into life and I am very much looking forward to a day of face to face teaching. We hold this workshop at the farm a few days a year, but since the pandemic we've also taken it, successfully, online, which means students from around the world can now join in. The next online date is 16th May if this is of interest. 
On Wednesday I will be teaching me 'Lifestyle Business' workshop online. This is not just for flower farmers, but anyone wanting to or already running a lifestyle business can benefit from joining this session where I will give you the tools to make a realistic plan to turn your dream of working for yourself from home from fantasy to reality. All the details about the workshop are available here. 
Talking of workshops, I loved the Easter Wreath demo on Friday evening - attached is a photo of the wreath I created during the demo which took place on a very wet, dark afternoon. There's still chance to buy the recording of the demo if you'd like to learn how to do this yourself. And it's your last chance to buy the recording of the Planting Out demo if you missed that one. We've also had some lovely feedback over the weekend from people who attended our new online workshop, Perennials For Cutting, last week - letting us know what they've been buying over the weekend! That recording is also available to buy. All the details of those recordings and upcoming workshops can be found on our workshop calendar page. 
Finally, some future dates to share with you:
For the YouTube clubbers (find out about the club here) - our next Live At Five will be on Thursday 13th June 5pm BST and the subject will be wedding flowers / packages / pricing. So have a think and let me know if you've any questions you'd like answered on this topic and I will do my best to answer them. If this is a topic you want more detail on then I have several wedding / event flower workshops on the website if you want to go and take a browse of them.
And one more date for everyone - we held our first 'Pricing Cut Flowers To Sell' workshop online in March. It was really well received and so I've decided to offer up a second date for this session - which we've managed to slot in 27th June (so still plenty of time to use the info you will get on the session to your advantage this season.) That date has just been added to the website - find out more here.
Well, that quick update turned out to be anything but!! As I said, plenty happening here at the moment. Monday is usually my admin day but given the sunshine I am keen to get the indoor work done quickly today so I can get outside and take FULL advantage of a dry day.
I wish you well with whatever your week ahead holds and hope to see you either here later in the week or on one of the workshops that are coming up!