November news from the farm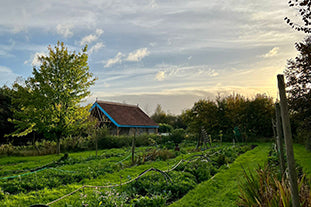 Time to plant the tulips.  Already?  Mine are due the second week in November, which means I have one week to prep the beds.  We plant our tulips in tight chunks, metre square blocks, in metre wide beds.  We've been clearing annuals to make room for them, and the home-made compost heaps are high. 
But we don't make enough of our own compost, so the Lakeland Gold with which we mulch arrives from Dalefoot Composts this Friday.  We garden on very thick clay and this mulching process goes with our not-much-digging process to encourage worms to come and drag the compost down into the soil so helping aeration, the compost on the surface stops water evaporating in hot summers, and the compost feeds the plants and helps keep the soil alive.  Every time we cut a stem from our gardens and sell it, we are taking the goodness which went from our ground into making that stem away.  And so, we must replace that goodness, one barrow load at a time.  It wouldn't be fair not to.
And this is how the year turns here.  Some of you may have been on my Flower Farmer's Year workshop in which I demonstrate how we manage our time quite (ahem!) carefully, so you'll know that I like to work methodically, never rush: I'm in this for the long haul.  Growing flowers for a living is something of an endurance sport, but like all marathon runners, I enjoy the physicality of it, I like the fact it keeps my brain and body fit.
On the subject of brain ache, my colleague Nicola deserves a huge shout out. I will admit that while I am good at trundling back and forth with barrow loads of mulching compost and trolley loads of bulbs, I do sometimes have ideas which require technical knowhow which I don't have.  And so in steps Nicola who never says 'No, that can't be done,' or even, 'No, I don't know how to do that.'  Instead she says to whatever my latest idea, 'Well, let's have a look at that and see what we can do.'
So when I said 'Let's start a club on YouTube,' it was Nicola who was tasked with creating it and working out how people could join.  And when the club had three hundred members I said, 'I know, let's give the Clubbers their own newsletter, and more benefits for their membership fee.'  And off I went to lift the dahlias and stride the meters I'll need for the tulips and order the mulch from Dalefoot.  And Nicola went back to her computer and puzzled and puzzled and now we have a YouTube club newsletter and a system for adding benefits to the club membership.  She's clever that Nicola: but as well as clever she's patient and she knows that sometimes the answer to a question is not obvious, but if she works at it she'll get there.  Hats off Nic!  And Thank You!  And for those of you considering joining the YouTube club there are now even more good reasons to do so.  And you can sign up for our club news, regardless of whether you've signed up to the club yet or not. Ping over here and find out about the club and sign up to the newsletter. 
In other good news Green Books were bought by Bloomsbury.  And Bloomsbury are so keen to produce a whole new edition of The Flower Farmer's Year that we have carved out the time and my fingers are going to spend the winter dancing over the laptop keyboard.  The world in which artisan flower farming takes place has changed dramatically in the ten years since the first edition was published and I have so much new to say about what to grow, how to grow, how to harvest, condition, arrange and SELL, not to mention running small businesses, social media and all the rest that I'm leaping out of bed these dark mornings, when usually I'm nestling in and making the most of it being too dark to garden, in order to get the words down as quickly as they pour out of my head. 
It helps enormously that I've been teaching workshops for all the years that I've been flower farming, because my students have made me focus minutely on the whys and wherefores of growing flowers for pleasure and profit, so that I can reduce the sometimes overwhelming process into questions which are answerable in a way that everyone can understand.  I want to make running a small lifestyle business like an artisan flower farm possible for as many as I can.  After all, the more people I help grow flowers, the more flowers there'll be.  And as you know, if we look after the invertebrates – all together now… - the rest of the food chain will look after itself.
So happy November all.  Here's to planting tulips, pruning roses, mulching beds, splitting perennials, and keeping off the ground when it's too wet to work.  May your backs be strong and your hands muddy.  Good luck and happy digging!
Georgie x
PS See our full workshop calendar here, which include dates for 2024.