September dahlia wedding - cutting and arranging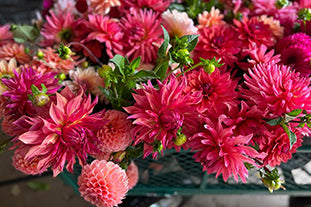 Life must go on, so while we mourn the death of that extraordinary woman Queen Elizabeth II, weddings already postponed through pandemic years must go ahead.
So here is the prep for a gorgeous late summer wedding full of dahlias and hot colour and apples and amaranth. If the prep is right the creation of the floral arrangements will go smoothly and relatively quickly. Then in the second video, watch as Georgie creates the flower arrangements for this beautiful wedding at Sparkford Hall in Somerset - a pair of big urns, a gorgeous Constance Spry piece, bridal bouquet, posies, buttonholes and finally a glorious late-summer garland with apples.