Early Autumn funeral flowers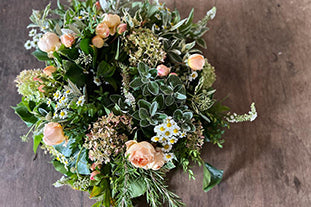 Join flower farmer and florist Georgie Newbery from Common Farm Flowers in Somerset as she creates a funeral wreath, inspired by those resting on the Queen's coffin.
Queen Elizabeth II has made a great gift to those who grow flowers, by proving that flowers cut fresh from the garden are the very best flowers to be used in a funeral wreath. Inspired by the flowers on the Queen's coffin, Georgie creates a totally biodegradable wreath, with twigs and moss and flowers from her garden. For more on wreath making book a place on Georgie's coming up wreathing demos through the autumn and for Christmas.
In this next video, you can join Georgie as she cuts, conditions and creates a stunning sheaf of autumnal flowers and foliage for a funeral. A sister piece to the clip she made inspired by the Queen's beautiful natural wreaths, this clip focuses on foam free mechanics and creating a piece of ephemeral art ready at the end of its work for the compost heap. No wire, no floral foam, just flowers and foliage cut straight from the garden.