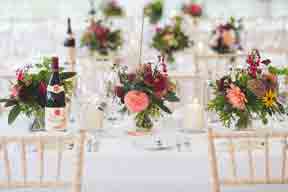 HAPPY NEW YEAR everybody. So what do we get up to in January? Well, along with many of you, January for us is a time for planning, especially flowers for weddings and events in the summer. So I thought I'd focus this update on top tips for you if you're planning flowers for any kind of event throughout 2019.
If you're planning on having flowers for your event, whether you're growing them yourself or buying in (we do buckets of mixed flowers cut fresh from our gardens to order throughout the season by the way,) the first thing I suggest you do is make up an example of what you plan to have on your table, or to carry. It doesn't matter whether you have exactly the kinds of flowers you plan to have at your event to hand (if you like only British grown flowers in your arrangements, then you certainly won't!) Using flowers with the same kind of weight as you'd like at your do, will give you an idea very quickly of both how many stems of flowers you'll need, how much foliage you like (I am a BIG fan of lots of lush foliage!) and how much time it'll take you to make each arrangement. You can then work out whether you think you can grow enough, whether you think you'll have time to cut it all and condition it, and how many friends you'll need to help arrange your flowers.
Here's a great tip list for you to check against to help you decide how much or how many of your flowers you might like to grow/arrange.
Do you have the space of say, three good sized raised veg beds which you could devote to growing flowers for your event? Yes? Good.
Order some seeds - try Higgledy Garden for great quality, guaranteed freshness, and a very funny growers' guide to help you.
Also come on our Grow Your Own Wedding Flowers Workshop (all the principles apply for any event needing flowers,) for increased confidence, know how, and quantity advice.
Do you have time to practise? Come on our DIY Wedding Flowers workshop (same principles apply to all events needing flowers,) for tips on cutting, arranging, timings, how much… the more you practise the more confident you'll be that you'll be able to turn the flowers you grow into arrangements you love and can be justifiably proud of. This workshop is great for people who are buying in flowers as well as those growing their own.
You can always order buckets of DIY flowers from us (with our advice and support you'll have exactly what you need to create beautiful arrangements yourself with top quality British grown flowers from our wildlife garden.)
Do you have neither the time nor the space nor, let's face it, the inclination to arrange your own event flowers? Then call us soon and book us in to help.
No event is too intimate for us to help with - and no event too large neither (though we do recommend you have lots of help if you're inviting 250 people to a wedding and expect it all to go without a hitch… or rather, without the wrong kind of hitch!)
For inspiration and to see the kinds of things we do please do look at our Instagram feed and check the tag #weddingsbycommonfarmflowers, or check out our Pinterest boards, which are arranged in month order, and feature only British flowers done by us, for inspiration for what you could grow, create, or order from us. Also our blog has lots of pieces with top tips and questions answered and things you ought to think about when making choices around your wedding or event. See the English Country Weddings category on the blog and you might be inspired to enter our competition below by something you read there.
We often work with clients who like a sort of half DIY flowers arrangement for their wedding or event. People are sometimes confident that they can make cheery table centres, for example, but they're nervous, or don't have time, or want something they're not confident they have the skills to supply themselves, when it comes to bouquets or bridesmaids' posies or buttonholes, or the big, wow factor pieces, so we supply big buckets of mixed flowers for them to make into table centres, and we make everything else. 
The prices on our website all include VAT and delivery, but there's usually a bespoke aspect to wedding or event flowers, and many of our clients like to collect from us and save delivery costs, which is a good idea if the scheme is relatively simple and there's not a great deal of installation to be done. You must never think that a simple scheme can't be stunning either. The flowers themselves, especially those grown by us here at Common Farm Flowers, are stunning already.
So if you're planning any kind of wedding or event this year, do get in touch, whether you'd like to grow, arrange, or commission flowers. We love to work with people to get the absolutely most out of their ideas and their budgets.
So happy January all. We're going to be nine in April… I think that's amazing! Thank you for your support! And we look forward to helping you with all your flowery needs throughout 2019.