Why come to a day course at Common Farm Flowers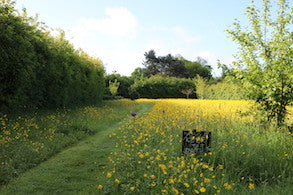 We love holding workshops here at Common Farm because people love coming to them.  What makes our days different? 
Well, we keep the groups small: I don't want to have more people than I'd comfortably have at a dinner party - that way I can make sure that everybody has not only a good time, but nobody feels left out, and I can make sure that everyone has their individual questions answered.  
We do a really good lunch: I think people are here to enjoy themselves as much as to learn something new, so we put on a delicious lunch of locally made food - quiche from At The Chapel, cheese from Kimbers Farm Shop, salad from Charles Dowding, and the famous amaretti biscuits and chocolate brownies made by our friend and neighbour Declan Farrell, who doesn't have a website so select is his list of customers.  
We teach in the round: I'd much rather everyone worked round a table so that there's a real atmosphere of getting to know one another.  Whether it's a serious flower farming, or business related workshop, or we're just having fun sowing seeds or making posies, I want people to feel included, the course to feel hands on, the day to be full of laughter as well as lots of learning, and I love it when people go home inspired, enabled, and, often, already booked in to come back and spend another day with us.
Where do we teach?  In our airy converted barn where there's room for seed sowing and floristry as well as lunch, and in our seven acres of cut flower patches, wildflower meadow and orchards where we encourage people to take photographs as we go so that they'll remember what we talked about and be able to replicate (or do the exact opposite!) when they get home.
Do we keep trade secrets? No. Generosity with information is the name of the game here.
Also we believe there's no such thing as a stupid question.
So come along and spend a day with us.  You'll be made very welcome and have a wonderful day.