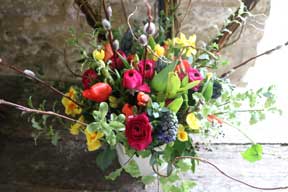 Will March be upon us like a lamb or a lion?
Though it feels as though it's April already out there now with the sun we've had beaming down on us, and the seeds germinating a gogo in the tunnels and the greenhouses. I love the way the larkspur sulks in the ground all winter and then suddenly, ping! they're popping up all over the place, lovely strong seedlings, crying 'Only joking!' to their apparent non-germination.
We've had the busiest February ever thanks very much to On Your Farm on Radio 4 (listen here) which featured us just before Valentine's Day. Who knew that so many people were awake at 6.35 on a Sunday morning, let alone ordering flowers at that time of the day! Thank you for ALL your Valentine's orders, and remember, Mothering Sunday is coming up soon so do get your orders in quickly for that weekend because we do sell out….
We send all our flowers on the Thursday before Mothering Sunday so they arrive Friday and people can enjoy them all through the weekend. Then this year I'm pinging up to the Country Living Fair at Alexandra Palace, where I'll be giving talks and demos all day on both Saturday 30th and Sunday 31st March. Have a look at the schedule in the link for timings. I'm just working out the logistics for getting all the flowers up there for the posy tying workshops I'm going to be holding - if you'd like to come on one of those then you may have to book, so it's worth having a look at their site for more information.
Meanwhile I expect your thoughts are turning to sowing seeds. Our two first Grow Your Own Cut Flower Patch workshops are sold out, so we've popped another one on the website on Saturday 6th April. There are limited places so do book quickly if you'd like to come and sow your summer's garden and take it home that very day, all ready to ping up for you and create a stunning cut flower patch for you to harvest from all summer long. You can see all our other workshops and dates on our website here.
And finally: as the season revs up, and your gardening backs stretch out in the spring sunshine please also remember our upcoming PLANT SALE! We are still raising money to fill the hole in our beautiful eight hundred year old village church roof, but we are nearly there! Will you come and help our plant sale beat all our previous years' takings into a cocked hat? Last year we raised £3,000 in three hours through selling plants at £1 a pot, and selling teas and cakes, and raffle tickets for amazing raffle prizes.
If you're local and will have plants to donate, we'd be really grateful if you would drop them off at Charlton Musgrove Village Hall from 4pm on Friday 3rd May. Plants we always needs lots of: tomatoes, runner beans, sweet peas, dahlias, cosmos, squashes and courgettes, chillies, as well as any other goodies you have to offer. We would also LOVE some really five star raffle prizes, so if you'd like to contribute to those please let me know via georgie@commonfarmflowers.com And maybe there's someone out there who'd like to sponsor the whole event? How would that be? In return for which we'd splash your name not only all over the village hall on the day, but on this newsletter which goes to almost 25,000 people twice a month, and our social media feeds which hit another 30,000+ each month. If you'd like to sponsor the plant sale do just drop me an email georgie@commonfarmflowers.com and we'll be delighted to work with you!
The plant sale this year is on 4th May 2019, between 9.30 and 12.30, at Charlton Musgrove Village Hall. This year all proceeds go to St Stephen's Raise the Roof fund. There is always a queue round the block for people to get in at the start, so don't dawdle along if you're planning to come. See you there!
So happy gardening one and all - my top tip for this month is to be ready with the horticultural fleece for when the late frost comes and tries to nip all this early season growth.