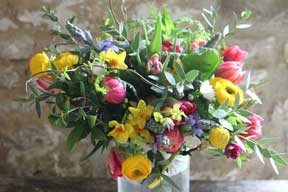 Well March is almost over, and it's felt sort of topsy turvy to me because Mothering Sunday is so late and the Country Living Fair is so early, so I'm having to get April jobs done in advance, which will make me happy in the long run, but, to this creature of strict habit, throws me slightly.
For example, there will be no sowing of seeds outside direct into the ground as there usually is at the end of March this year, because we'll be doing Mothering Sunday flowers and then rushing up to Alexandra Palace to do the Country Living Fair on 30th and 31st March. On the other hand, we're potting up the dahlias today (20th March!) because there won't be time what with the school holidays approaching and so on. Seed sowing direct in the soil will happen on 1st and 3rd April because on the 2nd we have our lovely webmasters here introducing us to a new theme for our website, so have a look out for that when it launches in the next week or so (this always makes me nervous, because I'm such a technotwit I usually break websites when I try and do anything with them and I'm only just about used to the last one!)
I've said it before, and I'll say it again - flower farming successfully in our artisan way is not so much about being able to grow things, it's about having a mind like a steel trap and a determination that gardening jobs get top priority in the diary. On which note, we are running a trial Flower Farming Intensive workshop here in August. It's a three day workshop going much deeper into how to make a successful flower farming business than we can on our one day Career Change workshops. For people who are perhaps already experienced in growing and selling flowers on a small scale, this will be a great way to take your flower sales to the next level. We're holding it in early August because people are always asking us to hold workshops in the summer holidays - so for once we are!
We have lots of fun new workshops this year: a sweet pea half day, a dahlia half day, a perennial wildflower meadow half day, as well as our regular hand tied bouquet workshops and garden tours. Another new day for florists is an eco flowers retreat on 23rd May. This is a day looking at the mechanics of using fresh, garden flowers and foliage in big, foam free installations. It will be a really fun and informative day for anyone who likes the idea of making floral installations, but is a bit overwhelmed by the idea of creating them without the fallback of the dreaded floral foam. We can only take a few people on this day so do book quickly if you'd like to come. Meanwhile the weddings and events are beginning to ping up on our calendar.

And we've one of our regular exciting events coming up - our annual PLANT SALE on 4th May, 9.30-12.30 Charlton Musgrove Village Hall (BA9 8HF). There will be large quantities of CAKE as well as masses of plants for just £1 a pot. We need very high end raffle prizes, please, if any of you kind readers would like to donate. We've already had a fantastic prize worth £100 from our friends down the road at Habitat Aid and we're looking for MORE. And if you have plants to donate and are local, please deliver Friday evening from 5pm, or bring them along on the day. There's always a queue round the block - so don't be late!

Georgie