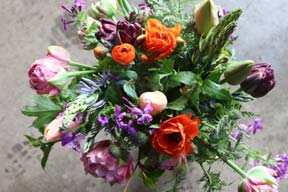 Well the season is upon us truly now, isn't it? I've been taking my crop in my hands and planting out like crazy (crazy being the operative word - we've had frosts here as late as 28th May before!) But I have my horticultural fleece to hand in case of emergency, and I'm not taking any serious risks (no cosmos planted out yet!)
It's an exciting time of year for gardeners - especially those coming to our annual village plant sale! People have been dropping off plants (whole footfalls from Elaine Miller Design!) and we must thank Jane and Sue who've been splitting and potting on to make a fantastic array of plants for sale.
After the plant sale we certainly do not collapse in a heap - instead we plant out the rest of this summer's crop (possibly including a few plant sale specials - I've got my eye on some of that pheasant grass you donated Elaine!) and rev up for a few more early summer workshops.
We're celebrating Chelsea Flower Show week by holding three floristry workshops, DIY Wedding Flowers is sold out in May (but do let us know if this is something you're interested in doing), but we have a couple of places on each of our bouquet tying and eco floristry days, both of which should be fantastic fun while very different from each other. Good thing we've got so much in the garden to cut! And then we dive into celebrating the wildflower meadow with Fabrizio's meadow workshop. He's out there right now, counting the orchids and trying to tell from their leaves (none are flowering yet) who has had rumpy pumpy with who and whether he has any interesting babies coming up - yes, we believe strongly in anthropomorphising our plants!
There are garden tours too (just £15 including tea, coffee and CAKE!) and our sweet pea workshop, so do book yourselves a treat day out here at Common Farm.
And as for the flowers - do you follow us on any of our social media feeds? We post pictures of what we're up to on Instagram, Facebook and Twitter most days, so you can see exactly what's available to include in our flower deliveries which we send throughout the UK next day delivery.
So enjoy your May gentle readers. Here the hawthorn is flowering, so I'm looking at my worn old clout and preparing to cast it.
Georgie x