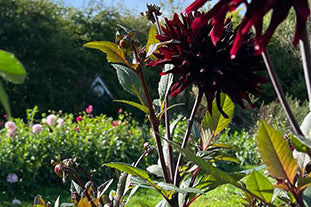 Season of mists… and lots to do in the garden!
Our cut flower season is now officially finished (though watch me keep creating for special orders and sneaking treasure out of the garden despite the fact we should be mowing it flat and taking time out!) 
It's been a peculiar year with all that raging heat in the summer, but the flowers held it together without too much water, due, I think, to our determined mulching of all our beds with two inches of Dalefoot Compost's Lakeland Gold during the winter.  If I've learned anything this year it is that mulching is EVERYTHING.  If I can share one top tip over all others, it is that mulching is EVERYTHING!
A good quality mulch, whether you've made your own compost, or have bought a rich, well-rotted, peat free mix from another supplier, makes a happy garden, and a happy garden will give back to you in flowers no matter how hot and dry the season.
Now I hope you don't imagine that I down tools at the end of September and take to the sofa until next March.  Believe it or not there is Christmas to prepare for (and associated workshops and demos!) 
And the further ahead I get with prep for the 2023 season the less rushed my days will be.  I dislike feeling under pressure.  I do like to work extremely methodically with lists which I push through, pacing myself carefully so that I'm not exhausted: I'm always telling people flower farming is an endurance sport, but if you're fit for it, it's the best way to earn a living.  After all, with the dark days of winter coming, having lots of jobs which are essentially preparing for spring, they eye is kept on a lighter goal, on tulips as the trenches for the bulbs are dug, on ranunculus as the claws are put to sprout, on warm spring days as next season's sweet pea plants are tucked into their beds in the small polytunnel. 
I know that sometimes people sort of run out of steam at the end of their gardening season.  And so I've scheduled lots of workshops and demos through the winter to keep you focused on the coming spring and summer. 
For many winter is a time for taking stock and planning – and I'm no different.  So join me on some of my small business and flower farming workshops.  We have our full day workshops, but we also schedule social media, lifestyle business and flower farmer's year workshops so that people can choose which subjects they'd like to focus on and take those subjects one at a time.
And autumn and winter creativity is satisfied too with wreathing and Christmas decorations workshops. 
A friend and long time colleague is to be married at the beginning of December, and it's such a pleasure to be creating flowers for her wedding.  As our season will be long finished, the flowers I'll use will be ordered up from other growers in Cornwall.  So I've scheduled a winter wedding prep session for then too as the skills involved in prepping winter event flowers are very different from those I use in the summer: when and how much material to order, how much lead time, how to condition flowers which have travelled overnight dry in boxes, what kind of foliage to gather, and thoughts re delivery and installation within a strict time scale.
New workshops and demos for next year have very much been inspired by requests at our Instagram lives and more recently in comments on our YouTube clips.  So we have sessions on planting out cut flower seedlings in the spring, good perennials for cut flowers, and pricing flowers for wholesale to add to our regular list. 
And do remember we have our popular one-to-one sessions scheduled for November (and January) if there's anything small business/flower farming/eco-floristish you'd like to go through in your own session.  So far we have people booked in on these to go through the specifics for their own wedding, and to brainstorm a marketing and social media plan to fit their own business for the next twelve months. 
My colleague Nicola has been cracking the whip so we have our schedule up until July 2023 all set.  You realise our workshops make excellent Christmas presents… After all, we all have too much stuff already, wheras the skills you learn on a Common Farm Flowers workshop will set you up for a lifetime…
So happy mulching all.  And enjoy the end of your seasons.  And I'll see you on my autumn wreath demo?  Or revving up for Christmas with our foraged decorations sessions which are designed to inspire and enable creativity as the nights begin to draw in.
Georgie x