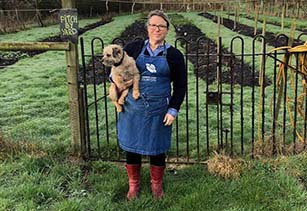 Reflecting on 2021....
Goodness friends, the year has pretty much escaped us again!  Here I sit awaiting the delivery of 4,500 tulip bulbs: the ground prepped, the biceps primed, the compost ready to tuck them in.  The ranunculus are sprouting in the studio (the anemones not quite in their trays yet…) and this may be my last wordy newsletter before Christmas! 
The amazing thing about 2021 is that without any drama Common Farm Flowers has become the business I always wanted it to be.  My dream is not to dominate the world cut flower markets and grow more or sell more than anyone else.  My dream, really, is to inspire everybody to grow flowers, so that wherever there is a garden there are flowers to cut, and the invertebrates who live nearby have something to eat. 
I have taught workshops here since we started the business: it seemed natural to me that part of the job of being a flower farmer was to share the skills I learned along the way.  We were lucky that we started the business in 2010 at a time that social media platforms began to be properly useful for small businesses to use for pr and marketing so there was a fun, free, way that I could share what we do.  Stroke of luck #2 for us was the installation of fibre broadband in our village on the 6th March last year.  And so despite the pandemic, we've been able to massively increase the way we teach, and the different ways people can learn from us.  Thanks to the fibre broadband we are able to upload to YouTube, and hold live chats on Instagram, and create and upload little TikToks in ways that we wouldn't have been able to only eighteen months ago.
So, I recommend to you many different ways to learn about flower farming, lifestyle businesses, how to promote your business on social media, and our special brand of eco-floristry.
1-1 Mentoring Sessions with Georgie 
Join Georgie for a one-to-one mentoring session, because sometimes you're looking for special advice, specific help, an overview you would like to talk over in a one-to-one session. 
Georgie is a successful small business owner, flower farmer, author, vlogger, and has built her business entirely on social media.  Common Farm Flowers is very much designed to be a lifestyle business so that it suits her family life and doesn't run her ragged. 
Having taught other people to do what she does for over ten years, Georgie has become extremely good at helping people identify their own business objectives and create strategies to achieve them.  Her friendly and straightforward approach to problem-solving has helped thousands of people over the years. 
So if you would rather have a focused one-to-one session then book a space on one of the mornings or afternoons she's put aside for you.  With a half hour planning meeting over the phone, Georgie can plan a bespoke mentoring session especially for you.  You might want to talk about social media, growing flowers, pricing, cashflow forecasting, business planning, or learn specific floristry skills. 
Sessions will take place over zoom and recordings of the session are included in the price. During warmer months it's possible to arrange mentoring at the farm - please contact us to discuss this. 
There are only ten sessions available over the first six months of 2022 so do book your session quickly if this is something you are interested in doing. 
These sessions would make fantastic Christmas presents.
Workshops at Common Farm 
We hold these in the more clement months of the year so that we can make the most of everything Common Farm has to offer. 

Whether we're looking at Flower Farming as a career, at designing cut flower patches, or cutting and creating with the flowers we grow (see our hand tied bouquet day, DIY wedding flowers workshop or eco floristry retreat), days here at the farm are enormous fun as well as being intensely informative and enabling, with the kind of engagement you can only get with physical contact with the subject under consideration. 

Days at the farm include delicious lunches at The Kitchen at Kimbers, and the groups of students are kept to a small number so that everybody feels included, everybody has time for questions, everybody can find out what they especially want to know.  A day, or three day workshop at Common Farm is a potentially life-changing experience.  £250 per person per day (with the exception of our social media session which costs £195) including lunch, or £700 per person for three day workshops.
Again, these days make fabulous Christmas presents.
Online Workshops 
This is an affordable way to engage with what we do at Common Farm, and ideal for people who live too far to travel to a workshop at the farm. 

These detailed, small group workshops are mostly held towards the end of the working day, again with small groups so that there's plenty of opportunity for everyone to ask questions and find out what they particularly want to know. 

We run them in such a way that you could take each class and make each one into part of a full course.  Recordings are sent to all students afterwards, along with notes to remind you of the key points we cover.  They last about two hours.
Midweek online workshops are £75, the only exception being our full day online Career Change Flower Farming course at £195.
Online Demos
Our online demos are usually held towards the end of the afternoon (UK time!) on Fridays. 

Often they are focused on the kinds of gardening jobs you might have have in mind for that weekend, or at that time of year, something that might be a bit fiddly and you might like extra advice about.  Or they are designed to inspire you to do something creative with what you've grown. 

These are demos, and are very popular with all kinds of gardeners, florists and flower farmers.  The information I share in these sessions is carefully considered and extremely useful, but the sessions are designed to be fun too.  A great way to get in to your gardening or flowering weekend.  They are about one hour long.
Our online demos cost £35 per person and include a recording of the session afterwards.
Free content on YouTube
I have had a YouTube channel for years, but always been a bit overwhelmed by what I thought I should be on it: the tech, the links, the snazzy intros all made me feel that YouTube wasn't for me. 

And then in May this year I thought, 'Stuff all that.  I don't have to do it like everyone else.  I'll just do YouTube in a way that suits me, and see how I go.'  And it seems that the YouTube audience loves that approach. 

So YouTube has become a firm part of my week.  I just film what I'm up to, very much on the hoof.  This week coming up there will be tulip planting and bare root rose planting, because that's what I'll be up to. 

The clips are free and it seems that people do find the information useful. 

And so I've added on a brilliant idea my book keeper Karen, of Organise My Books told me about.  It's called Buy Me A Coffee.  And it's a way for people who love the free content to contribute to it, thank me for the tips and tricks I share along the way, and encourage me to make more clips!  I will admit that the buy me a coffee results are as encouraging as the way the youtube channel has taken off – to the extent that I may soon invest in a microphone and a selfie stick!
Free content - Instagram Lives
And last, but by no means least, we have the Instagram lives.   

Encouraged last June by Instagram itself to start doing live Q&A sessions, these too have turned into a regular (during term time!) chat between me and the 'grammers who want to know about one or other particular part of my job. 

Like the YouTube clips (and often complimenting whatever is going on on YouTube that week,) they are planned on the hoof, very much driven by whatever is going on in the flower fields or the studio, and the questions the Instagrammers send in and ask. 

They are great fun for me to do, and informative for the people who join in.  And again, they are supported by people buying me a coffee (not a real coffee, obviously, but just making small contributions as a thank you for the tips and tricks I share in these sessions.)
A final word or two...
The lovely part about the YouTube and the Instagram lives is that they are free to anybody interested in growing flowers, flower farming, and my particular brand of eco-floristry techniques.  They aren't structured, or stuffed with the detail and strategic planning that the workshops and demos have, but they are nevertheless designed to be helpful, and so they are free to viewers, and the people who Buy Me A Coffee really support the making of them, not only financially, but also by reassuring me that the free content is popular and useful: a real win-win situation.
I have no doubt that by the end of next year our whole teaching offering will have developed further.  But for now I'm amazed at how we've gone from only-at-the-farm workshops before COVID to all these different ways of sharing what we do and how we do it.  And I love the free stuff best – and the kindness of consumers who Buy Me A Coffee to support the free content. 
Our business ethos is to 'Look after the invertebrates, and the rest of the food chain will look after itself,' so if I can encourage all people, whether their outside space is as narrow as a windowsill, or as large as a country estate, to grow flowers, then there will be invertebrates all over the world who have more forage to live on.  And the rest of the food chain, so long as we don't break it by killing off whole links like slugs, or ants, or aphids because we consider our desire to have flowers more important than that link in the chain, will flourish thanks to our efforts.
Right – I'll get off my high horse and back to the matter in hand.
This November what are we doing in the garden?  Join me at a workshop, or online via Instagram, YouTube, still best beloved Twitter, even Tiktok, and I'll show you!
And if you'd like to support any of the free content then you can always…..buy me a coffee!
THANKYOU!