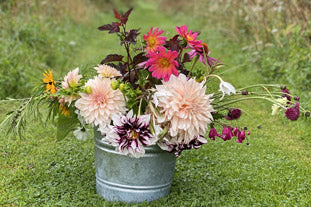 Well, hello all!

How are you feeling as the summer folds gently to its close?  Here, I will admit, that though at times the rain felt relentless, the garden has not complained.  In fact, if anything, the shrubs and roses have loved the wet.  I think the water table was so depleted that some of them may have been struggling a little for a while (we are mean with watering.) And so a wet summer has given them all a boost.  I still do also credit the help of dear old Dalefoot Compost with which we have been mulching for twenty four months now – here about twelve, twelve hundred litre bags a year to cover all our beds. I must measure the bed system we have here exactly and find out really how many running metres of metre wide beds we are working on at the moment…
So what are we up to? 
Well, the lovely thing about not sending flowers UK wide any more is that we have had a little more time.  We are still supplying lots of flowers locally until the end of the season, but not sending flowers around the country in the quantity we used to means more time as we making fewer delivery boxes, not having to fill in the manifest for the couriers, all that sort of thing.  And we have used that time instead to hold more summer workshops and garden tours than we usually do, and they have been great fun under our lovely Timberintent sail and mooching around the garden, everyone snips in hand, the trolley filling with huge banks of flowers.   

Bon, enough rambling.  I hope that you haven't been flattened by the rain, and that your shrubs and roses too have loved the weather.  I'd better get on.  But hope to see you here, or virtually, on one of our workshops at Common Farm soon.   

See more of what we are up to below....
Georgie X
Late summer and autumn workshops
We have masses of workshops planned for the autumn, both here at the farm and online, so do check if there's something you would like (or need!) to take part in. 

The days here are fantastic because you get to see how we work here, warts and all, which is very useful if you're thinking about taking up growing flowers for sale, or recharging your social media for your small business, or you want to diversify your floristry skills, or grow better dahlias - we have days for you here. 

Online we are holding what has become quite a course for people running small businesses, flowery or not.  With modules from how to create a Lifestyle Business, to social media, to designing your cut flower patch, to the flower farmer's year, our online sessions are designed for you to pick the modules which suit you and do as many of them as you like. 

Do email georgie@commonfarmflowers.com if you have any questions about which sessions you'd like to take. 

And of course our Friday flowery demos start again in the autumn term. 
Weddings....

Meanwhile we are really enjoying our wedding work this year.  Smaller weddings are so much up my strasse and will be our focus for wedding work going forward. 
 
I've loved the eloping couples, and diy couples we've worked with this year, though we still have some bigger dos booked in for 2022, loooong postponed, and I fully expect to over-do them completely because they will be my last big event hurrahs. 
What are we doing on social media? 
We are also enjoying our social media more and more. 

With regular 'live' sessions on Instagram, very much driven by the Instagram community who suggest subjects and questions to cover, and fun to be had on YouTube, do head over to both those places for more of what we're up to (though Twitter is and remains my first and best social media buddy!)